Corporate Entertainment Events

Locolobo Events can book for you the entertainment you want for your Corporate Entertainment Event, Concert or Private Party. We specialize in all areas of live entertainment, have access to all national acts and can also achieve for your special event, comedians, speakers, sports figures, and specialty entertainers. Full service corporate event planning is another of our specialties. So whether you are looking for big name or local entertainers, LocoLobo Events will help you succeed. Fill out our Find Talent form to start your Talent search.

Corporate Entertainment events vary in size, purpose, and mood. On some occasions, companies invite all employees to attend conferences or parties. Large organizations host some parties that consist of thousands of invitees. Other events are for select employees only.

Many organizations hold annual banquets, oftentimes during the holiday seasons. Company sponsored bashes that include food, drinks, and dancing serve as holiday gifts to employees. Other Corporate Entertainment Events are designed to improve worker performance. Companies hold leadership and sales seminars that are both educational and fun. Moreover, businesses celebrate employee and team achievements by throwing parties. Nothing builds morale like treating high-performing workers to excellent food, drinks, and entertainment.

Different corporate Entertainment events call for varying atmospheres. Sometimes, business leaders want events to remain professional and company-oriented. While senior managers want people to enjoy themselves, they still want people to recognize certain events as being work-related. Other festivities have the opposite purpose. Sometimes it's healthy and productive for employees to forget about work for a few hours and have fun together.

The Difficulty of Planning Corporate Entertainment Events
People's tastes vary significantly from one person to another. What one individual considers fun may completely bore someone else. For example, some people consider jazz music to be artistic and intellectual. Others call it elevator music. Some people love playing sports. Other people don't have an athletic bone in their collective bodies. Workplaces are incredibly rich with diversity, making event planning very difficult and stressful.

Oftentimes, the burdens of planning corporate Entertainment events rest on the shoulders of people who lack the expertise needed to orchestrate great parties, conferences, and retreats. Star employees may produce great business results, but not all of them are experts on how to plan successful social functions. Besides, how many busy professionals have the time to plan parties?

Common planning blunders include hiring speakers who offend certain factions within workforces, not offering enough varieties of foods, and booking entertainment that certain audiences consider inappropriate. Poor planning results in disappointment. It takes considerable time to plan quality events that fit within budgets.

Corporate Entertainment Events Planned by Experts
Expert planners find ways to transcend the socioeconomic differences among people. People who have attended superb wedding receptions know how top-notch disc jockeys entertain everyone. At these parties, young people, old people, hip-hop fans, and rock fans all end up dancing and having fun. Businesses that specialize in planning corporate events know how to book the best entertainers for all occasions. Let us help you with our skills as a: Artist Booking Agent, Band Booking Agent, Business Event Planner, Casino Entertainment Booking, Celebrity Booking Agent, Corporate Entertainers, Event Planning And Production, Fundraising Entertainment, Music Booking Agent, Resort Entertainment Booking Agency, Special Event Entertainment, Talent Booking Agent.

At corporate Entertainment events, the right guest speakers make special occasions truly memorable. Prosperous business leaders, popular politicians, famous sports figures, and actors all turn ordinary events into affairs that people talk about for years. Companies that specialize in event planning know whom to invite to which functions. Moreover, these businesses have connections with famous guest speakers, enabling them to land the best talent at the lowest possible costs.
The Talent that's Available, and Examples of our Work
Music
Whether you want a DJ for a small gathering, or a major name performer for a large presentation, we have the network to fill your needs at affordable prices.
List All Musicians

List Our Musicians
Comedy
Our comedic talent is also available from the largest pool of performers. Liven up your occasion with laughter!
List All Comedians

List Our Comedians
Special
Maybe you need a clown for a children's party... or a magician for a special event. Whatever your needs may be, LocoLobo Events has the talent you want.
List Our Entertainers
Celebrity/Sports
Looking for a celebrity for a graduation? A sports figure for a motivational class? Give us a call. Your speaker will be found and hired.
List Speakers

List Sports
Hook / Reall Deall Band


Review: The Reall Deall Band / Hook features pop, R&B and dance hits original & covers. From the minute they hit the stage, people were jumping up and dancing. The first thing that struck me in watching the band was that they all really love what they ...

Dale Smith Thomas


Book Dale The Power of Choice! Dale Smith Thomas has a message of success and choice for your audience, as well as an empowering, engaging style that will challenge your organization to make changes that will take them to a new level, both personally ...

SURF CITY ALLSTARS


The World's Greatest Surf and Beach Party Band SURF CITY ALLSTARS The Surf City Allstars were formed in the early 80's with the band members who were touring with both the Beach Boys and Jan & Dean. The Surf City Allstars are now a full time endeavor ...

Adam Jay


I am a witty comedian with well-timed setups and punchlines that elicit big laughs. My laid-back pacing works best at venues where paying audiences are attentive and hanging on every word. But I have no problem engaging a rowdy or disengaged audience ...
Contact Us
Contact Us
---
The debut album from Chris Mahoney features techno injected guitar-based instumental music. Powerful melodies and killer beats soaring with colors and textures not yet explored in this genre will leave you hypnotized, mesmorized, and completely captivated by this exciting new sound.
This extremely unique listening experience will leave guitar fans and non-guitar fans alike just as the music is... without words, but filled with emotion. "This is a guitar instumental record for people who hate guitar instumental records."
---
William Michals made his Broadway debut as "The Beast" in Disney's Beauty and the Beast, performing opposite Andrea McArdle, Deborah Gibson and Toni Braxton, and later returned to play Gaston in the same production. His career has continued in such roles as Javert in Les Misérables, Billy Flynn in CHICAGO, Don Quixote in Man of La Mancha, Harold Hill in The Music Man, Captain von Trapp in The Sound Of Music and the title role in Phantom. A recipient of the prestigious Anselmo Award, he also earned recognition by Chicago's "Jeff" and the National STAR awards for his portrayal of Chauvelin in the national company of The Scarlet Pimpernel opposite Douglas Sills.
He has sung The National Anthem for major league sporting events from coast to coast, and enjoys the rare distinction of performing for the joint leadership of the House and Senate inside The United States Capitol. Symphonic performances of "The House I Live In" and John Williams' "America, The Dream Goes On" have garnered the praise and admiration of many D.C. notables, especially Sen. Orrin Hatch (himself an accomplished songwriter). Mayor Rudy Giuliani personally called upon William to open the December 11, 2001 memorial service at Ground Zero with a solo, a cappella rendition of "Let There Be Peace On Earth", which has been rebroadcast worldwide over network TV, CNN, National Public Radio, and the Internet.
William's credits extend into the classical world, in New York, Boston, and in recitals at the Aspen and Tanglewood Music Festivals. Operatic roles include Figaro and the Count in Mozart's Le nozze di Figaro, Escamillo in Bizet's Carmen, Marcello in Puccini's La Bohème, and the dark Hunding in Wagner's Die Walküre. In spring 2005 he'll star as Danilo in the upcoming Opera Memphis production of Lehár's The Merry Widow. TV appearances include "Law and Order", "All My Children", and "Guiding Light."
Following the success of his live CD, william michals broadway in concert, William is now collaborating with some of the extraordinary creative talents behind Sarah Brightman, Josh Groban, and Charlotte Church, fusing the myriad of musical styles with which he has been associated, and providing the true baritone sound the "crossover" market has so far lacked.
With a varied career on stage, in concert, and in the studio, William Michals continues to live up to the moniker "America's Baritone".
Michals is all dark-voiced, dark-browed glamour…. – Variety
Michals cuts the dashing figure…and he has the voice to match. – The Boston Globe
William Michals' voice resonates with emotion. When he is on stage, he commands it. – Chicago Sun-Times
Simmering in-your-face sexuality…. – Nashville Scene
---
Murali Coryell is known to some as jazz guitar legend Larry Coryell's son, to others he is known as "blues master". Other people call him the "soul man," and yet he can also be seen performing salsa or singing the American and Canadian national anthems at sporting events. The truth is Murali Coryell is all these things and more. One thing everyone can agree upon is that Murali has the voice which invigorates the music whatever type of material he is performing as one fan wrote, "has no explanation, but none is needed once you hear and understand."
Murali Coryell was born in NYC October 27, 1969. During Murali's infancy the family moved around a lot living for a time in Scotland with bassist/vocalist Jack Bruce and in California with guitarist Carlos Santana. When Larry's career took off the family moved to a farm in Doylestown, PA where Murali's brother, Julian, was born in 1973. Then moved to Wilton, CT in 1975 and eventually settling in Westport, CT where Murali graduated from Staples High School in 1987. Vocalist, guitarist, songwriter, producer and record label owner Murali Coryell graduated with honors in 1992 from S.U.N.Y. New Paltz. There he studied languages and earned a B.A. degree in music theory and composition. Murali is fluent in French and Spanish and is able to read and speak many languages including Russian and Arabic. He also has a background in acting and theater.
Among his first professional jobs were stints as guitarist for folk singer Richie Havens in 1993 and then as guitarist and sometime vocalist for blues man Duke Robillard in 1994. Shortly thereafter, Murali signed his first record deal which resulted in the debut CD "Eyes Wide Open" (released in 1995 and later re-issued in 2000) featuring songs written by Murali influenced by R&B of the 1960's and 70's. Mark Scheerer for CNN's "Showbiz Today" was impressed with a live performance and did a piece on Murali which aired April 15, 1997.
Like his mentor Miles Davis, Murali has long had his own melodic and harmonic concept which has been shaped by his own unique musical and life experience. For this reason Murali is credited as producer or co-producer on all recordings that bear his name. Murali would rather not be categorized but would prefer to be recognized as an artist, who as one fan posted on Amazon.com "...has unparalleled rhythm and harmony sense no matter what form of music he touches." 1999 saw the release of "2120" (CZYZ Records). Executively produced by Marshall Chess (formerly of Chess and Rolling Stones Records), "2120" garnered a glowing three star review in Rolling Stone and drew comparisons to Jimi Hendrix and Otis Redding in a New York Times review. In 2000 the release of "The Coryell's" (Chesky Records) chronicled the long awaited collaboration with father Larry and brother Julian in an acoustic exploration of blues and jazz.
---
The Surf City Allstars were formed in the early 80's when Jan Berry couldn't always perform with Jan & Dean, due to occasional health problems. The Allstars are now a full time endeavor for Dean and the band. The Surf City Allstars are the best surfin' beach party band around on a par with their friends, the Beach Boys. Each member has had a long career in surf and beach music. When you hear the band, you get Dean Torrence singing all the Jan & Dean hits; Surf City, Little Old Lady from Pasadena, Drag City, Deadman's Curve, etc. as well as the songs that Dean sang with the Beach Boys, such as Barbara Ann.
The Allstars bring you all the Beach Boy's hits not only because of Jan & Dean's involvement, but because most of the band members have also toured or recorded with the Beach Boys as well. The Allstars are rounded out with Gary Griffin on keyboards (Beach Boys, Jan & Dean), David Logeman on drums (Jan & Dean, Mike Love's California Beach Band, Beach Boys), and Don Raymond on guitar/bass (Ventures, Jan & Dean). The band is also very pleased to add Philip Bardowell on guitar and vocals. Philip took Carl Wilson's place with the Beach Boys for the last few years. Most recently, the Allstars added Matt Jardine from the Beach Boys on vocals.
"Even before the concert, Dean and the band helped alot with publicity that showcased our event. The music and singing were fantastic and the dance floor was rockin' the entire evening! From students to senior citizens, the Allstars' music bridged all generations!" - Golden West College, Huntington Beach, CA
This show available with Mike Love or Al Jardine and David Marks (all original Beach Boys)
---
Ten Ton Truck covers rocking roadhouse, blues and classic rock with it's own twangy take on all of the above. Fronted by nyc veteran Harley Fine. Very danceable and lots of fun. Featuring Harley Fine on vocals & guitar. Tommy Frenzy on vocals & guitar. Ross Diasomont on bass. David Donen on drums
---
Ken DeAngelis and Julie Ziavras
Singer/songwriter Ken DeAngelis is a native of the Hudson Valley. At an early age he began studying music, accordion and writing songs, teaching himself guitar and harmonica. He became active in the Hudson Valley area folk scene, performing a mixture of originals, contemporary singer/songwriter material and pop covers. His original songs, which often describe personal experiences, are recognized for their distinctive style, universality, originality and his unique guitar flat and fingerpicking styles. His voice has been described as "smooth and velvety" and his songs as "provocative and heartfelt". They have won awards at song competitions, have been featured on radio, in concert and at numerous song festivals.
Soprano Julie Ziavras is known for her diversity of styles, ranging from opera and classical art song to contemporary and traditional folk, Greek and international ballads. Classically trained, she holds Bachelor and Masters degrees from the Manhattan School of Music and has coached with Metropolitan Opera maestros including George Schick and Alberta Masiello. She has performed in concert, on radio and TV in the US and abroad and has been a featured artist at international song festivals.
---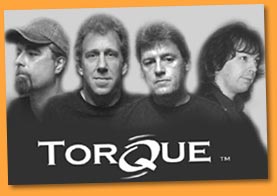 Torque features the soaring guitar expertise of Mark Hitt and the legendary powerhouse drumming of Steve Luongo. The band rips though a set of original material along with well placed covers from the band member's past. The result is a jaw dropping performance that will leave you breathless.
Steve Luongo has recorded or performed with many well-known artists such as Todd Rundgren, Leslie West, Ann Wilson, Alan Parsons and many others. Performing under the name Steve Luongo & Friends Steve has played host to just about everyone during the days of the China Club Pro Jams in NYC. Steve Luongo & Friends has included performances by Rod Stewart, Joe Walsh, Edward Van Halen, Noel Redding, Eddie Vetter and even some vocals and blues harp by Bruce Willis. Steve was a founding member of Rat Race Choir but is most recognized as the drummer/producer of The John Entwistle Band.
Mark Hitt is the world-class guitarist that recorded with Maggie Bell, John Bonham and Robert Plant before Bonham's untimely death. Also known for his work with Rat Race Choir, Mark is considered by many to be one of today's greatest guitarists. He has influenced the likes of Steve Vai, Joe Satriani and Steve Stevens among others. Hitt's other credits include several soundtracks and a studio stint with The Tubes.
---
Steve Lippia has become one of the most prominent, in-demand vocalists and has quickly established himself as one of the finest interpreters of the great American classic standards and traditional pop music in the nation.
Steve has headlined for extended engagements at the RIO SUITES HOTEL AND CASINO in Las Vegas and RESORTS HOTEL AND CASINO in Atlantic City, where SRO audiences lined up two hours before show time to vie for seating. Recently Steve completed a highly successful 14-month engagement where he starred in the hit show, "THE RAT PACK IS BACK!" at THE SAHARA HOTEL in Las Vegas.
Steve has been featured with numerous pops symphonies across the country and will be featured with the BOSTON POPS SYMPHONY, this coming season. He has headlined to SRO crowds at the legendary "BIRDLAND JAZZ CLUB" in New York City, where he was backed by the NELSON RIDDLE and WOODY HERMAN ORCHESTRAS. Steve recently finished a highly successful EUROPEAN JAZZ FESTIVAL TOUR that culminated in his being featured in a nationally televised special on FINNISH TV2.
Steve has recorded a self-titled CD that was recorded at WARNER BROTHERS' STUDIOS in LA with a 41-piece symphony.
---
Ralph Gatton has been playing professionally since 1966 and has been custom sequencing since 1988. At last count he has 1652 tunes that he has sequenced and can perform (music from the 40s through the 90s with a lot of 60s) In 1981 the band he was in (Monterey) won the "Sunbird Award" for being the best rock band in the Midwest. Since going solo he has opened for Head East, Leon Russell, Steve Luongo & Friends (drummer for the John Entwistle Band), Brian Stoltz (guitarist for the Neville Brothers and Funky Meters), Marty Balin (lead singer for Jefferson Airplane and Jefferson Starship), Shakespeare's Pipe (featuring Joey Molland of Badfinger), Moe Denham Trio (keyboardist for Clarence "Gatemouth" Brown) and Grass Roots.
---
Nu-Cullers, The Ultimate Dance Band, Has become one hottest show bands in the New England area. Founded by Myke Ross and Eugene Dobbs, who both are seasoned veterans in the music industry, Myke has worked with artist such as the Ink Spots, Nate Adderly Jr., Betty Wright and has just completed a live clasical recording live at Lincoln center. Eugene works with The Five Satins also Soul Sound Review a Motown Review Show Band. Be it Jazz, R&B, Motown, Soul and Reggea this unit delivers nothing but quality entertainment.
---
Since 1965 Cannibal and the Headhunters have reminded audiences time after time why they still hold a place in the hearts and minds of rock n roll lovers everywhere. Their signature song "Land of 1000 Dances" still captivates audiences today with it's all time anthem (Na na na na na) that you'd be hard pressed to find anyone that isn't able to finish that popular melody! Their legend includes performances with Motown greats of 1965 to The Rolling Stones and The Animals and also touring with the Beatles as an opening act.
Today the group's current line-up features founding member Richard "Scar" Lopez, singing baritone as he is supported by a fresh-faces crew that intend on adding to the impressive legacy of the original group. Gregory Esparza, the group's lead vocalist, brings his passion to a show that he says begs for true authenticity. Jut imagine a blend of the original show from choreography to song selections and a twist of Rat Pack-esque onstage antics and you'll have a feel for what the group is doing today. Musical director Andy Tesso brings over 30 years of history and experience with the Headhunters as singers Tony D'Arc and Joel Dalton both a wealth of talant, share leads and well as a harmony that is guaranteed to get your heart racing and your feet tapping!
Cannibal and the Headhunters is a true slice of American history with a big beat you don't want to miss.
---
Eddie Benitez started his musical career back in 1976 when he was signed to Fania/CBS Records at the age of 14. His first release "NightLife" soared the Latin and jazz charts. Nominated for a Grammy and received rage reviews from Downbeat and Billboard Magazine. Eddie at 14 toured the world. His second release "Essence of Life" Did very well, both albums were certified Gold.
"Having good friends at that age like Al Dimeola, Herbie Hancock, Tito Puente, George Benson, Santana, Mongo Santamaria, Barry White and many others. Charlie Palmieri a great keyboardist was my gaurdian and kept me away from drugs and going crazy while on tour" Eddie survived Cancer at 23 and took upon arranging music for Latin hiphop freestyle groups like Stevie B, Cover Girls, Etc. in 2005 my new DVD and CD will be released and I will be doing a CD with my dear friend The father of Smooth Jazz George Benson. Eddie Benitez considered the "The Sensual Guitarist of our time", With Passion and love he plays to capitvate the audience.
---
Planet Groove
How do you explain the unique sound of this diverse act? - Bob Gulla, music writer for the Boston Phoenix explains - "Combine the Red Hot Latin sizzle and musicianship of Carlos Santana and Tito Puente, with the rich Funk & Soul of Maceo Marker and you have landed on Planet Groove." Since 1994, Boston based Planet Groove has entertained audiences throughout New England with their infectious blend of Latin, Jazz, Rock & Funk.
Planet Groove intelligently appeal to both the American & Hispanic music fan with danceable beats and catchy lyrical hooks sung in English and Spanish. As seasoned musicians, Planet Groove challenge the listener with a high level of musicianship, while constantly embracing the need to keep the dance floor jumpin! Julian Wise, writer for the Martha's Vineyard Times agrees, "If you enjoy high caliber, spicy Latin Dance music, Planet Groove's live shows are must-see events."
Talented, mature, reliable and highly entertaining, Planet Groove is a band on the move.
---
SLAVE "Family of Funk" the reunion has started with the coming together of SLAVE, AURRA, STEVE ARRINGTON'S HALL OF FAME BAND, DEJ'A and YOUNG AND COMPANY.
I guess you are wondering how all of these groups came out of the SLAVE Organization. Well let me start from the beginning. Trumpeter Steve Washington formed the group SLAVE in Dayton, Ohio in 1975. Vocalist Floyd Miller teamed with Tom Lockett Jr., Charlie Bradley, Mark Adams, Mark Hicks, Danny Webster, Orion Wilhoite, and Tim Dozier. Vocalists Steve Arrington and Starleana Young came aboard in 1978 with Curt Jones and Charles Carter joining later that year. Their first big hit was the thumping single "Slide" in 1977 for Cotillion, where they remained until 1984. Their best tracks were lyrically simple, but the arrangements and rhythms were intense and hypnotic.
Steve Washington was the young man from East Orange New Jersey who was known as the fearless leader. He had met Starlena Young and Curt Jones playing in a club with a band called Starchild named after Starlena. This is after the release of the great hit "Slide". Steve had a vision to put other groups together. He started out by letting Curt Jones and Starlena Young do studio time along with Slave. Steve also started working with and producing groups from the New Jersey area. He soon discovered that he had hit on a northern sound that could be part of his Slave family. But, he was not finish yet. Later on that year he was introduced to Starlena's brother Billy Young and his co partner Mr. Buddy Hankerson. At the time Billy Young and Buddy Hankerson were going under the name flash flood. The group sound was pure funk from the city streets. Steve came to them with his family project and wanted them to be included. Who could say no, he was teaching us the tools we would need to become the funk artists we are today. We had come full circle, and were ready to take on the music world as SLAVE and as solo projects.
Steve Washington approached a lot of record labels after the success under the Slave umbrella. But, the record labels didn't want to mess with the hit making machine. So, Steve Washington released all of his under studies on to the music world and the rest is history. Every one under his family began to have and impact on the music world as never seen before. Hit after hit after hit, and when the record companies realized what they had let slip threw there hands it was to late. Because all that Steve Washington said would happen, and did happen on a major level. Young and Company gold recording group, Dej'a gold recording group, Aurra gold recording group, Steve Arrington's Hall Of Fame multi gold recording group. We were touring the world and the skies were ours. But, after all of the gold records with SLAVE and solo projects we still missed our home roots. We all started calling each other and talking about getting back together, not just for us, but for the fearless leader Steve Washington. But, before we hit the stage one more time we needed to reach out to the fearless leader. We had to get his blessings to make it happen.
Well folks, Its official, he gave SLAVE "family of funk" the go ahead. Now we are set to start our world tour. When you come to a SLAVE "family of funk" show, you will get the best of SLAVE in all of its evolution, and we will be honoring the young man from East Orange NJ, Mr. Steve Washington and his vision for the Funk!!!
---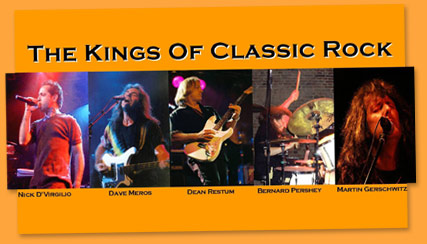 The Kings of Classic Rock
"Let me introduce the band. . . ."
They aren't household names. . . . but they've shared the stage with lots of them. You've definitely seen or heard one or more of these guys at some point, either in concert, on TV, or on a CD or DVD. For over 25 years the members of The Kings Of Classic Rock have played for many of the great legends in rock, both in concert and in the studio.
They've toured and/or recorded with bands such as Iron Butterfly, The Animals, Edgar Winter, Sheryl Crow, The Fixx, Tears For Fears, Paul Revere and The Raiders, Vanilla Fudge, Genesis, Chuck Berry, Meatloaf, Percy Sledge, Lita Ford, Peter Gabriel, Olivia Newton John, Spencer Davis, Gary Myrick and The Figures, Loverboy, Buddy Miles, Manhattan Transfer, Thelma Houston, Jennifer Love Hewitt, DeBarge, Sugarloaf, Bobby Kimball and Simon Phillips (Toto), The British Rock Symphony, Brand X, Glenn Hughes (Deep Purple), Robbie Krieger (The Doors), Eddie Van Halen, Steve Lukather (Toto), Brian Auger, Jonatha Brooke, Glenn Shorrock (Little River Band), Dwight Twilley, Walter Trout, Eric Sardinas and more.
The Kings Of Classic Rock met while playing for Eric Burdon and The Animals, and a strong musical bond was forged. After years of very successful worldwide touring, the guys felt that somehow they had to stay together rather than go their separate ways and end up playing as hired guns for other artists as they had done for so many years.
The Kings Of Classic Rock was created to play the very best songs from each of their former bands and create an irresistible set, as much fun to listen to as it is for them to play, and make it appealing to anyone who is a fan of rock music from the 60's, 70's and 80's.
---
Chi Coltrane's interest in music began early and by the time she was twelve, she was playing eight instruments— her favorite being the piano. As a teen, she began performing in some of Chicago's hippest clubs. The word spread that a young, vibrant talent had emerged. Soon after, Chi made her stunning overseas debut when she starred as guest star of the USA at the International Rock Festival before 50,000 people in Rio de Janiero. She 'tore the house down' with her electrifying vocals and introspective songs. She returned to the States and immediately signed with Columbia Records.
Her premier release simply entitled "Chi Coltrane" quickly climbed up the charts on the strength of the monster hit single "Thunder and Lightning". By summer's end, the track had reached the Top Ten worldwide, selling millions of copies. Following an extensive tour schedule, Chi returned to the studio and 1 1/2 years later released her next album "Let It Ride". The reviews were extraordinary! With her exceptional songwriting, powerful piano playing and unmistakable voice, when was touted the "Queen of Rock", the female Elton John and natural successor to Janis Joplin. Rolling Stone Magazine described Chi as a "rip-snorting female vocalist/composer/producer whose performances are nothing less than searing." The San Francisco Chronicle said that being a singer, songwriter and musician was not exactly lunhearad of, "but she is also very good at all three and has two things going for her beyond talent; an engrossing urgency in her voice and a distinctive presence and beauty." Chi began making guest appearances on numerous Network TV specials, including NBC's "The Tonight Show".
Chi toured extensively in the USA developing a loyal core of dedicated fans. This success soon translated itself overseas. Abroad, the impact of her music was overwhelming with sold out performances and multiple Top Ten hits. In Germany, Switzerland, Austria and the Netherlands, she was voted Top Female Artist for two consecutive years.
With the recent release of "Chi Coltrane's Golden Classics" on the Sony label, Coltrane connects with music lovers everywhere.
Chi's lifetime work has garnered many awards and accolades, both here in America and aborad, including the coveted European Gold Hammer and Silver Hammer for top Female Artist. She held the #1 position in the Musik Express Popularity Poll. In addition, Chi was recently voted one of the Top 50 Musicians of the Century. In 1999 Chi was honored by the 18th Annual Music Industry at their Annual Pre-Grammy Celebration in Los Angeles for her achievements in the field of music.
---
THAT THING YOU DO
"The One Hit Oneder Review" is a unique opportunity to experience a slice of music history. Tom Hank's film chronicled the rise and fall of a fictitous band in the early 1960's called The Oneders. Now, you have the opportunity to hear all the songs from the movie and others from that decade!
Not only will you hear songs by The Wonders, Freddy Frederickson,The Vicksburgs, (and other fictitious groups), but you'll hear the Dave Clark Five, The Searchers, Paul Revere and the Raiders, The Kinks, and others off the Billboard charts in the early 1960's. All done with authenticity and fun! The band dresses in '60's period clothes with vintage instruments. It's full of energy and great musicianship. The musicians come from Nashville all the way to California.
STARRING Scott Rogness and Rick Elias -- the original artists that wrote and performed on the That Thing You Do Movie Soundtrack!
---
Jefferson Starship, a collaboration of celebrated musicians that plays from the rich songbook of its legendary forefathers Jefferson Airplane and the original incarnation of Jefferson Starship, prevails as one of the most critically acclaimed touring acts today. Their hits include, from both Jefferson Airplane, and Jefferson Starship, "Somebody to Love," "White Rabbit" "Caroline," "Miracles," and "Count on Me". Steeped in the fantastic realms of science fiction and the contemporary American shadow land, Jefferson Starship features a stellar cast of old and new players, including songwriter/guitarist/vocalist Paul Kantner, vocalist Marty Balin and bassist Jack Casady, all of whom were crucial in developing the renowned "San Francisco Sound" that changed the course of pop music forever.
---
Howard Scott was the Co-Founder, Front Person, Leader, Guitarist, Songwriter and co-Producer of one of the biggest Funk/Pop/R&B acts, "War". Howard competed head-to-head with Earth, Wind & Fire, and regularly bettered them on the charts. War was in the same league as big-time R&B acts like Stevie Wonder, Aretha Franklin, Marvin Gaye, and Diana Ross.

Where there was very few before, Howard Scott, with the rest of the band, started out as an international ethnically integrated act led by English blues rocker, ex-Animal, Eric Burdon. They rose to fame on hits like "Spill the Wine", "Low Rider", "Why Can't We be Friends", and "Slippin' into Darkness", "The World is a Ghetto" and "Cisco Kid" just to name a very few. Burdon primed the band then left after completing a couple albums.

Influenced early on by blues masters such as Howlin' Wolf, Muddy Waters and Jimmy Reed. Howard's success is only enhanced by his purely emotional connection with the audience. War's rich harmonies and rump-shaking grooves rounded out the popular sound.

Scott's spontaneous chemistry has given birth to most of War's greatest songs. One day Howard Scott was on his porch playing his Fender when he started singing, "Cisco Kid was a friend of mine," and the rest, as they say, is history.

Howard Scott's music has sold more than 80 million copies worldwide!!!!

Howard Scott on stage was the main motivator for the band War. Scott took a leading role in the production and writing for the band His approach was far-sighted and idealistic. Understandably, most of his tunes were credited to the whole band. Listen to any of War's albums or songs to discover Howard Scott's genius. It's his soul-drenched voice belting out the lead vocals on most of War's greatest songs and it's the funky punch of Howard Scott's guitar that often ignites the crowd. Howard's lyrics were sometimes political in nature (in keeping with their racially integrated lineup), but his music had a sunny, laid-back vibe about it emblematic of their Southern California roots, which helped keep the groove loose. In fact, many of his studio songs were edited together out of longer improvisations.

Anyone who has experienced the catharsis of Howard Scott's live shows knows that his songs are much more than a catalogue of platinum records and hits. With Howard's ability and chemistry, he could build a Latin tinged groove like a force of nature and take it to the depths of Funk, Soul, R&B, and Jazz. For Howard Scott, the battle has always been to push the boundaries of popular music, to create a musical expression that is original and straight from the soul and heart, despite the forces of green and selfishness at work in society. His battle still continues today.

This unique chemistry goes back to South Central Los Angeles, when he formed an R&B group called The Creators. Like the street culture from which it was born, The Creators was a hybrid of ethnicities and styles, with a strong Latin influence and an eagerness to break the usual club act restrictions.

They cut their teeth on the R&B club scene backing the likes of Marvin Gaye and Little Willie John. As the band evolved, even more diverse elements were thrown into the pot, jazz percussionist Papa Dee Allen who had played with Dizzy Gillespie joined up, as did blues/pop singer Eric Burdon from the Animals.

"We called ourselves The Creators because years ago when we were at Jefty's (club in L.A.), we'd be playing, it might be "Knock on Wood," and we'd start out with the main motif, the head of the music, and then just take off on a jam, go anywhere we wanted to go and come back. When Howard Scott gets on stage now, he's the same way. He starts off with one song, let's say it could be "Low Rider", or " Sun Oh Sun, next thing you know, The Creators come out, whoops!"

All Day Music, which spawned His first Top 40 hits in "All Day Music" and "Slippin' Into Darkness"; the album itself was a million-selling Top hit. Howard Scott really hit his stride on the follow-up album, The World Is a Ghetto; boosted by a sense of multicultural harmony, it topped the charts and sold over three million copies, making it the best-selling album of that year. It also produced two Top smashes in "The Cisco Kid" (which earned them a fervent following in the Latino community) and the title ballad. Deliver the Word was another million-selling hit, reaching the Top and producing the single "Gypsy Man" and another hit in "Me and Baby Brother." However, it had less of the urban grit that Howard Scott prided himself on; while taking some time to craft new material and rethink their direction, War consolidated their success with the double concert LP War Live, recorded over four nights in Chicago.

Why Can't We Be Friends returned to the sound of The World Is a Ghetto with considerable success. The bright, authentic track hit the Top Ten, as did "Low Rider," an irresistible slice of Latin funk that became the group's first R&B chart-topper, and still stands as one of his best-known tunes. The release of a greatest-hits package featuring the new song "Summer". A double-LP compilation of jams and instrumentals appeared on the Blue Note jazz label, under the title Platinum Jazz; it quickly became one of the best-selling albums in Blue Note history, and produced an R&B-chart smash with an edited version of "L.A. Sunshine."

When disco began, Howard switched labels, moving to MCA for Galaxy, the disco-tinged title track was a hit on the R&B charts, Then completing the Youngblood soundtrack album for the movie of the same name, Next was Outlaw, which was a moderate success, the title track was a Top R&B hit. At he same time "Cinco de Mayo" became a Latino holiday standard. Commercial standing Interest in Howard Scott's classic material remains steady, thanks part to frequent sampling of his grooves by many hip-hop artists, which then fueled Rap Declares War with a variety of rappers and the sampling still continues today.

At that time, it was raw the essence of War that Howard Scott craved to go back into the studio and record Peace Sign in 1993. When he tried to return to the studio, he found that the topography of the industry as well as the dynamics of the group had changed. Howard Scott was very disappointed and frustrated. That led him to stop touring for nearly a decade.

This turn in the industry and in the band just slowed Howard down but only temporarily. To the delight of true fans everywhere. Howard Scott formulated a plan to regain control of his music and independence from WAR, as evidenced by his new single "Ordinary Man". The raw essence is back! True to Howard's original mission, he continues to evolve and push the boundaries of popular music. Legally, Avenue Records has prevented Howard Scott from using the WAR name. Remember, the spirit and the talent of WAR was and will always be Howard Scott. He will continue to perform, write and produce his music and fans will continue to come out in droves lending weight to Shakespeare's proverb, "A rose by any other name would smell as sweet."
---
The Brothers of the Sun Band
As Howard Scott considered going back out on the road, he knew he needed a band that would maintain the integrity of his previous efforts, while at the same time being able to tap into the consciousness of today's contemporary music scene. In that search, The Brothers of the Sun Band was created. Ruben Salazar and Nick Bustos (bass and drums, respectively) exemplify that ideal as they are young, hungry and eager to take their music by storm with heart-stomping groove infected rhythms, and a musical sensibility well beyond their years.
In addition to Howard Scott featuring The Brothers of the Sun Band live dates abroad and in the U.S., he has been in the studio recording more original material, which will be independently released in 2005. As Howard Scott says, "I think the kind of music that we're on the verge of creating has been in the air. It's been circulating… I'm going back to my spiritual roots and on my way I want to continue to grow. It took ten years for me to come full circle, put band aides on my wounds, put splints on my broken bones, got my egos adjusted, and then get back on the line and start another fight. And the fight is always going to be how you play music, how people like your music, and how people like your spirit when you perform that music. With that philosophy, you've got a whole new flavor for going into the 21st century."
Ruben Salazar, Bass
Nick Bustos, Drums
Josh Clarke, Percussion
Dan Kruger, Keyboards
Daniel Hardway, Tenor Sax
Kevin Simon, Horns
Jenna Apple, Vocals

---
Southern rock veterans Black Oak Arkansas have remained a cult band thanks to their raw, primitive energy and the testosterone-fueled antics of lead vocalist/showman James "Big Jim Dandy" Mangrum. Named for Mangrum's hometown, Black Oak Arkansas eventually built up a solid following through incessant touring and enjoyed a run of ten charting albums between 1971 and 1976. The band also found itself with a Top 30 single in their raunchy cover of a LaVern Baker R&B hit called "Jim Dandy to the Rescue," which became Mangrum's signature song. When album sales dried up, Mangrum re-formed the band with more musically skilled veteran players and continued to tour.
Following several straightforward Southern rock albums, the band called it quits in 1980. After recovering from a heart attack, Mangrum reunited with Reynolds in 1984 for a solo album, Ready as Hell; The Black Attack Is Back followed two years later. In 1999, BOA reunited to release The Wild Bunch. (Steve Huey, All Music Guide)
---
Jimmy Della Valle's streetwise edgy flare, macho vulnerability, and his blue-collar twists always keep you on the brink of laughter. Don't let his young looks fool you, he is a true professional who has been making people laugh long before he stepped onto the comedy stage over a decade ago.
Jimmy's unique point of view, otherwise known as "Jimmyisms", will take you on a ride to his own special world. Since moving to New York City, Jimmy has been working full-time as a comedian climbing the comedy ladder. He has been headlining at major comedy clubs and colleges in the United States and Canada. He has performed alongside such established acts as Jerry Seinfeld, Chris Rock, Dave Chappelle, Adam Sandler and many others. In addition to being a professional comedian he is also an actor, appearing in feature films and television appearances such as HBO's Sopranos, Oz, Sex and the City Comedy Central and Conan O'Brien. He has also appeared in over a dozen commercials. Jimmy is also a comedy writer and has co-created a sitcom and his CD "It's Just a Jimmyism" is generating quite a buzz.
Jimmy's act has evolved from personal topics such as his hot-tempered Italian father, his neurotic Irish mother, his sister' s African American husband, and his family's gambling problem. His act takes you through his wild experiences with women and life's many adventures.
Jimmy is a mixture of the new and old generation of comics. Do yourself a favor and book a ticket on the next train to the brilliant world of "Jimmyisms!"
---
Simultaneously intelligent and wacky, Todd Charles' stage show draws on his background in stand-up and musical comedy, theatre, circus arts, and magic. His spontaneity, unique imagination, and showmanship create a full-speed-ahead act that leaves people laughing uncontrollably. Using a variety of hysterical props and a banjo -- his act is "total off-the-wall, roll-in-the-aisles, spill-your drink fun!"
"You'll laugh so hard your face will hurt!"
---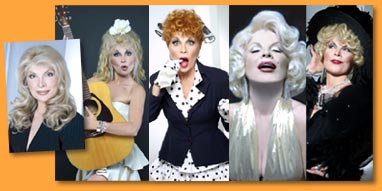 Linda Axelrod is a professional actress, writer and performer. She has appeared in films, television, theatre, commercials, voice overs, industrials shows and corporate events.
When a private party, sales meeting or corporate event needs a mistress of ceremonies or comedy, Linda's look alike celebrity impersonations of Marilyn Monroe, Lucy, Charo, Mae West plus a cast of other characters start the fun. Meeting your objective with laughter and fun is the goal of every production. These look alike characters stumble in to sing and roast honored guests and major corporations based upon information supplied by the client. Linda's creativity, innate acting ability, keen improvisational skills enables her to interact directly with the client/audience. Custom written roasts are one of Linda's specialties and have been an outstanding success.
Welcome to the world of Charo, where everything is hot, hot, hot!!! Energize your shows, corporate events, industrial shows or parties with the help of the impish latin lovely. Charo arrives dressed in her flamboyant trademark fashion, big hair, and platform shoes. Accompanied by her favorite dog "taco", unfortunately deceased, but now stuffed. this red hot spitfire will ignite any show with her lively songs and hilarious sense of humor.
Carol Channing with Linda as Marilyn
Spend some time with america's favorite redhead - Lucy. Let Lucy MC your special event and watch the zany chicanery ensue. One of the most recognizable celebrity characters, with her vibrant red curls, polka dots galore and big red lips, lucy meets, greets, mingles and takes the time to be photographed with everyone.
Who else but Marilyn Monroe could create such a sensation singing happy birthday to a president? Who else could make diamonds a girl's best friend in a classic film clip? Platinum blonde hair, an innocent wispy voice, dripping in diamonds and wrapped in fur, from the golden era of hollywood glamour, in a word; Marilyn.
Bodacious, brazen and buxom, Mae West sashays into your show, corporate event, trade show or private parties, resplendent in her sequin dress, big hat, feather boa with plenty of attitude to match.
---
As a boy growing up in Berlin, young Hilby boasted no traumatic childhood experiences and exhibited no particular talents other than making funny faces at strangers and, as Hilby himself describes it, "breezing rhyzmically." Hilby grew up doing all the fun things that people do when they're not in school until they began to call him a grown-up. That's when he packed up his old kit bag, gave his mom a big kiss on the cheek, and set out on a journey that was to lead him all over the world.
Hilby travelled across the European continent to Asia. One of the talents he learned along the way was juggling. From that day forward his social life took a distinct downward turn as countless weeks went by during which he wouldn't listen to anybody but his own inner voice saying, "Come on Hilby, you can do it!" Well, sometimes he did and sometimes he didn't but what a learning spurt it's been ever since! His old "breezing rhyzmically" came in handy as Hilby discovered the ancient art of Chinese JOJO's--where else but in China itself--as well as many other unique performance techniques in his wanderings.
A six month stay in Japan with Buddhist monks and lots of chanting, as well as performing on weekends, polished what was already shining, and gave Hilby the confidence to perform his act in Japanese. He assumes his hosts understood what he said because they have invited him back every year since. Hilby is a truly international performer who is able to communicate through his humor with people of every nationality, size, shape and mental condition.
Hilby creates unforgettable moments for his audiences with such death-defying feats as The New Schrubber Schrubb Schrubb of Doom, in which he juggles an electric powered hedge trimmer, a bowling ball and a flaming beanie baby. Working in the tradition of the legendary silent vaudeville-inspired comedians such as Buster Keaton as well as the great mimes Marcel Marceau and Lecoq, Hilby presents a show without boundaries in which artistry and anarchy are blended into utter hilarity.
---
A former shoe salesman, John Rizzo is a regular on the regional comedy circuit, playing about 200 shows a year and driving his beat-up Chevy Cavalier some 3,000 miles a month to make his living at places withnames like the Yuk-Yuk Hut and Giggles. "I'm a road monkey," Mr. Rizzo explained. "I'm paying off my car with jokes."
[At the U.S. Comedy Arts Festival, the annual comedy talent showcase in Aspen, Colorado,] one of the last to perform was Mr Rizzo, who said he was an "old-school, physical" comic who did a lotof "goofy, silly" material. True enough, Mr. Rizzo hit the audience — "I'm nervous, you nervous?" — with a barrage of material about everything from his bad looks to his childhood toys to his ethnicity. He shrugged his shoulders, he grimaced, he imitated a crippled Slinky. He left to a big round of applause and the reality of an hourlong drive back to Bridgeport.
-- An excerpt from: Anxious Comics: It only hurts when they hope, by Jesse McKinley, NY Times.
---
Rebecca Lindsey
Recently winning the award for New Country Star "Female Vocalist for November 2006", Rebecca Lindsey is becoming one of the most recognizable figures in Country music. A trained singer/ songwriter since she was 10, Rebecca has continually set the bar for excellence in performance and song writing.
Rebecca's debut CD Headlights on the Highway is scheduled for release in January 2007. Rebecca is also an active member of BMI and the American Federation of Musicians.
Prior to recording Headlights on the Highway, Ms. Lindsey released two singles, "My Man" and "You Got Me", both of which charted over seas. Rebecca's song that she wrote and sang, "My Man", is currently being played on France's Music Box Radio 92.8 FM and is also playing worldwide on web radio.
Rebecca's latest release, "On the Fourth of July" was engineered by EMI's Chris Latham and has been getting radio play in Vermont, Massachusetts, New York, Florida, Arkansas, Tennessee, Kentucky, California as well as Texas and on Lexington Broadcasting.com. "On the Fourth of July" is also presently being played in over a thousand radio stations world-wide. Rebecca was most recently interviewed by Lexington Broadcasting.com with Steve Martin as well as WBTN AM with Rich Ryder, Y107 FM with Brian Austin, NIXA on XRadio and she was featured in The TIKI Lounge magazine and graced the cover of The TIKI Lounge in June 2006.
---
Marthia Sides has a glittering resume that combines equally impressive career achievements and educational expertise. This one time opera singer who's roles have included spots on Sex and the City, Two Weeks notice, many major cable networks, modeling, as well as CMT's "Popularity Contest" is a well rounded and seasoned performer," Nashville City Paper. Marthia is not only beautiful but is an exceptional vocalist. Her first country CD "Born Again in Country" has received national and international recognition and she has been out on the road promoting it. Traditional Country Music magazine writes:" This pretty girl sings pretty, and the songs she has selected to make this CD are all just great. This is a step away from the "normal" Nashville sound. There's too much over production in Nashville these days, and not enough of the real thing. So what is the real thing, you ask, in this case it's Marthia."
Picture Perfect Girl goes out 2700 radio stations thru CDX and CDTEX Nov. 15th, 2006. Previous Promotions/ radio play and appearances have included: CMT radio tour, in studio radio performances (without CMT) in TX, IA, NE, CO, KS, WY,( just to name a few), Maxim Sirius Satellite, ABC stations, WBNYC, touring throughout the USA, featured and /or played on radio stations in the USA, Europe, Canada, and even Japan.
---
RB Stone has headlined on 5 Continents, over 30 Countries and recorded 12 albums to date. His music has been recorded by "The Marshall Tucker Band" and many other international artists. His CD's are available at Tower Records and other fine stores worldwide. RB is a true Americana success story, starting from humble beginnings in small town Ohio working on farms, to touring and entertaining the world and becoming part of the EMI Music family as a writer, publisher and producer. His show covers many genres of music including Rock, Country, and Blues, as well as Tex Mex, Folk and Blue Grass. Each show is different making every performance a unique experience. He performs with his band, and also does solo and duet acoustic concerts. With all formats you get straight from the heart energetic performances, with personality plus, and a wide appeal for capturing and entertaining many audiences.
"RB is one of those Extremely Talented Charismatic Artists with timeless styling that's not afraid to push the musical limits and break the sound barriers."
– Ray Kennedy, Grammy Award Winning Producer
---
Over this past year Teresa Wade released to radio her first single, "I'm All Over That" and in support of the single visited over 100 stations, resulting in over 100 stations, nation-wide, adding the song to their play-lists. After recently releasing her second single, "Kudzu," Teresa is once again enjoying national airplay on well over 100 radio stations- and growing every week. We are very excited about her debut CD release, The Real Thing, coming in 2006.
In 2005 Teresa also had the great opportunity to sing the national anthem at two televised NASCAR races, participate in the Brett Favre Foundation Celebrity Golf Tournament, among other things you will see outlined in her press kit.
---
Victoria Boland, a multi-talented singer-songwriter, is one of the most versatile and charismatic performers you'll ever meet. A real showgirl at heart who lives for an audience, she can put sizzle into broadway and life back into the old standards in a "Las Vegas" setting, or silence a noisy lounge with her evocative renditions of "At Last", "Stormy Weather" or "Lover Man". But at the same time, Victoria is a seasoned country artist whose powerful and moving vocals combine the heart and soul of Patsy Cline with the sassiness and energy of Shania Twain.
Victoria is a two-time winner of scholarships to Boston's Berklee College of Music for Jazz. She is also the reigning female champion of the 2004 Canadian Open Country Singing Competition. She has performed for thousands at a Shania Twain concert, at Queen Elizabeth's Golden Jubilee Celebrations and at the Opening Ceremonies of the World Cycling Championships.
As a singer/songwriter, Victoria wrote, produced and toured with her own country music cd, ALL WOMAN GIRL, in 2002/3. As a recording artist, she is "the full package" and she's had the pleasure of working and recording with world class musicians like members of Elton John's band (Davey Johnstone, Nigel Olsen, Bob Birch and Guy Babylon). While Victoria also models, writes and records jingles, does movie work and is a Shania Twain tribute act, her focus is on her singing and performing skills. Her long-term goal: to become an international recording artist and live entertainer. Her favourite place: ON STAGE!
---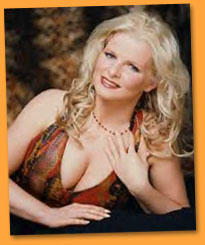 Shelly Rastin, a songwriting and recording partner of music icon Randy Bachman (guitarist and founding member, The Guess Who & Bachman Turner Overdrive), is exploding on the Pop/Country market with a solid CD strongly showcasing her fresh, energetic vocals and clever songwriting.
Rastin was recently awarded COUNTRY ARTIST OF THE YEAR at London Ontario's first annual 2002 Music Awards. This independent artist was up against and won over some stiff competition including country star Beverly Mahood of Lace.
This talented, blue-eyed, blonde-haired beauty was labeled "the next Shania Twain" by Nashville's music row, after she made the trek there in 1999 to record her first demo CD, Am I Dreaming, produced by Mel Shaw, a Canadian music legend and winner of the first Juno Lifetime Achievement Award.
Shelly's 1999 first single release, Am I Dreaming, hit Country radio audiences far and in between, including Moncton, Charlottetown, Winnipeg, London, Chatham, Sarnia and Port Huron, Michigan. The twinning of Rastin and Bachman produced an instant magical connection, which continued to produce new material in 2002. An initial group of 10 tunes includes, Little Fingers, as the first release in 2003. Little Fingers is now in rotation at WSAQ 107 FM, Port Huron, Michigan, and this is just a start!
"I simply love to perform live," says Rastin. "Being able to work up a sweat on stage and give a rawkin performance for an eager audience is one of the best feelings in the world! These are exciting times, and I'm gonna' continue to give my music and my supporters everything I've got, and work hard to wrap them around my 'little fingers.'"
---
Country Music's brightest newcomer is Jackie Richards.

Jackie is one of the most versatile performers in Canada today. She has graced the stage with many great acts such as Doc Walker, JamieWarren, The Mercey Brothers, The Good Brothers, John Landry, Diane Chase and Gil Grand to name just a few. In 2002, Jackie won the regional Country 93/CMT Discovery Contest in Owen Sound, Ontario, Canada. This was the spark that lit the fire for Jackie's debut CD "I Got On This Train To Ride". The single release of the track "Fall" in March of 2003, received great reviews and airplay in Canada, the USA and overseas.
---
Country Music Booking Agent
A familiar country tune can bring back old memories and take you right back to your roots. Fans of country music wouldn't mind seeing their favorite artists (such as Naomi Judd, Rascal Flatts, or Keith Urban) perform, particularly if such a performance were in an intimate setting like a corporate concert or VIP-only event. While country music booking agents represent most successful artists, it can be difficult to track them down. That is where locoloboevents.com can help you.

We work for clients to secure bookings for country singers, DJs, country bands, and background country musicians. Whether your corporate meeting involves a C&W theme or you simply want to entertain your audience, we will deliver top performers to your doorstep. From big-name celebrities to tribute artists to newer bands with their own special sound, locoloboevents.com can handle all of your entertainment needs.

Don't have a large budget? Don't worry. We have artists on our roster that will fit your finances as well as the size and type of your event. If you need help deciding on a theme for your charity fundraiser or industry trade show, our staff can help you with that, too. The right music, though important, is only one ingredient in a recipe for a successful event.

While we handle all the details, all you have to do is show up at the concert or event and introduce the artist on stage. You can sit back, relax, and enjoy the show with the rest of your attendees. For a great event with the perfect country music talent, contact locoloboevents.com today.
---
Michael O'Connor presents
his World Class Tribute to Elvis

"As a producer of music lyrics and seeing Elvis live in Las Vegas along with over 150 want-to-be Elvis impersonators, I can say that with his deep tones and rhythm, Michael O'Connor is the only singer that can come close to a computer match of the notes and pitches of the true Elvis. Michael can stay on top of notes better than the singers here in Vegas and his stage costumes are the mirror of what Elvis would have used on stage here in Vegas. We are truly lucky to have such a dedicated entertainer as Michael O'Connor. I would highly recommend Michael O'Connor for any event when dealing with the general public and more so the fans of the King."
-- Sheldon Hansen, Studio Music Production

"I have interviewed over 100 of the top Elvis tribute artists in the world and I have to say Michael is the closest I have ever heard or seen he is so natural it's like Elvis never left."
--John O'Hara- Author of book Elvis and You, 2/1/2003

"The best I have ever seen... has fantastic personality and incredible voice... Michael is truly gifted and I have seen all of them on the Islands none of them come even close. Something you really have to see to believe."
-- Hilton Corporate Hawaiian Resorts, 9/6/2002

"Michael is an extremely talented entertainer and a great person. The likeness, personality, and voice are incredible. He is so down to earth. He must have signed 400 autographs, and people actually waited in line for 20 minutes. "
--Westgate Mall, Bethlehem, Pennsylvania, 8/16/2002
Michael has also been personaly endorsed by the world famous Blackwood brothers gospel quartet who worked with Elvis. They have only endorsed 2 Elvis Tribute artist's since Elvis passed on in 1977.
To Whom It May Concern:
The Blackwood's have sung with Elvis himself, sang at his funeral, and his mother's funeral. Elvis loved the Blackwood's and we loved him. Michael O'Connor is carrying on the music and the spirit of Elvis. Michael O'Connor is our friend. I recommend him!
-- Ron Blackwood, Blackwood Brothers, August 22, 2004
I became an Elvis fan at the early age of 6, and at age 10, I had started performing for charities. At age 20, I gave my first professional Elvis tribute show. The owner of the club that I performed at had expected about 50 people to show. Instead, approximately 877 people had squeezed into it. Considering the capacity was set at 500, I considered it a good start to a career I absolutely enjoy doing Elvis shows! I don't do it for the money, although it helps. I do it because I love it, along with the pure joy it can bring to people. I feel honored and blessed to be able to pay tribute to a man whose popularity is as strong now as it ever was.
-- Michael O'Connor
---
As the standout former lead singer of Sha Na Na, Johnny Contardo is renowned for his romantic ballads. Consistently a crowd favorite as a solo act, Johnny shows his versatility onstage, and has performed many an encore to standing room only audiences.
He was awarded a Platinum album for the soundtrack from the movie "Grease," as well as a Grammy nomination. He received a Gold album for the Golden Age of Rock n Roll, and is well known for being featured on the Sha Na Na television show that aired for four years.
His song Those Magic Changes was featured in the movie and soundtrack for "Grease." His show is an incredible crowd pleaser, and is perfect entertainment for your public, private and corporate events. Johnny likes to involve the audience with participation, and is always a big hit. His repertoire features a great mix of oldies, uptempo rock, and his famous romantic ballads. He is happy to customize his show to deliver what the client and audience desires. Johnny is also a charming emcee as well, personality and energy onstage.
As a tour soloist, Johnny is distinguished for all styles of music, including Pop, Swing, Jazz, and the Music of the 50's. He has entertained fans all over the world with his charm, wit and vocal content.
Johnny combines his vocal expertise, enthusiasm, and energy into an unforgettable performance. This experience showcases his talent with tunes reminiscent of Bobby Darin, Frank Sinatra, Johnny Mathis, and good old Rock n Roll.
Presenting Johnny Contardo is a delight. His presence onstage is smooth, sensual and special. The media and marketplace will welcome the fresh breath of air and expression of memories, artistic ability and popular pleasures of his show.
---
The Contours have proudly worn the label "Motown's #1 party group" for more than 40 years. Today under the leadership of original member Sylvester Potts, The Contours are center stage once again. Much of the resurgence in The Contours popularity has to do with the Academy Award winning film, "Dirty Dancing". Their hit "Do You Love Me " was featured in the film and became so popular that it gave birth to an international tour entitled "The Dirty Dancing Tour" starring The Contours, Bill Medley, Merry Clayton and Eric Carmen. That tour lasted 10 months, played to over 2 million people in 8 countries and sold over 10 million copies of "more Dirty Dancing" before it ceased production. During this time, Motown Records was quick to capitalize on The Contours popularity by reissuing their original version of "Do You Love Me" in single and album form. That move paid great dividends for everyone as "Do You Love Me" climbed to #11 on the national charts, making it one of the few recordings in history to hit the top 20 in two different decades.
A Contours show is jam-packed with dazzling choreography, impeccable harmonies and those timeless Motown grooves that everyone knows and loves. You can choose to dance, sing along, or just sit back (if you can) and watch the show as they perform all of their greatest hits together with many of the greatest hits of the 60's and 70's era, as well as a selection of classic songs from the Dirty Dancing Soundtrack.
Several CDs are currently available featuring Contour hits; "The Very Best Of The Contours", "The Contours - The Millenium Collection", and the multi-million selling 4 CD box set "Hitsville USA 1959-1972".
In recent developments, The Contours were featured on the PBS special "Rock, Rhythm & Doo-Wop" performing "Do You Love Me" and "First I Look At The Purse" much to the delight of their legion of fans.
The Contours are in their 5th decade in show business, and are not content to rest on past laurels. They can still "shake 'em down" and stand ready to entertain fans old and new alike.
---
The Shallows Oldies Band
If you like true authentic 1950's street corner acapella harmonies, and are a true fan of the music from the 50's thru the 80's, including the Motown groups then you will love THE SHALLOWS.
For over 21 years, the Shallows smooth blend of harmonies and multiple lead voices have made them popular favorites in the club scene in the Hudson Valley Region of NY and in Northern NJ. They have appeared on New York's number on rated Don K Reed's "Doo-Wop Shop", John Manzi's Bop Shop radio show and on oldies radio, 97.7 with John McCaffrey.
The Shallows shows are energized with a top notch 4 piece band and choreographed moves providing unsurpassed entertainment for listening, dancing or just plain watching. It is assured that your experience seeing and hearing The Shallows will be remembered for a long time.
The blend of voices from the very bottom bass to the high soprano notes comes together to form a beautiful harmony that will surely take you back to the care free years of the 50's thru the 80's. For great musical and family entertainment, come out and see the Shallows ! The Shallows have performed on stage with the world famous Temptations, The Spaniels, The Dubs, The Five Satins, The Drifers, The Platters, The Coasters, The Marvelettes and many, many others.
---
The Clusters started in 1957, when five Brooklyn boys 15 to 17 years old formed a group called The Clusters. The original group consisted of, Charlie Scardina (lead), Tommy Mordente (first tenor), Donnie Milo (second tenor), Henrey Ferro (baritone) and Joe Gugliotta (bass). In April of 1958 The Clusters recorded "Darling Can't You Tell" and "Pardon My Heart" written by Oliver Hall & K. Martin. The record became a New York hit and rose to #10 on the Billboard charts. The Clusters performed at the Brooklyn Paramount Theater, Alan Freeds Big Beat TV show and Paul Shermans TV Show.
The "new" Clusters were reformed in 2003. featuring original bass singer Joe Gugliotta. Singing the hits of the SO's 60's & 70's, The Clusters have performed with the Legendary Dubs, The Willows, Earl Lewis and the Channels and many other great artists. Whether singing with their professional audio tracks, band or pure acappella, The Clusters will bring a touch of class to your next Rock & Roll show, party or corporate event.
---
Jr Walker's Allstar Band
Harvey Fuqua of motown hitsville U.S.A owned a record label Anna Records, and the Harvey label. Johnny Bristol brought a band to Harvey's attention – Jr Walker and The All Stars – Tony Washington - drums, Autrey DeWalt (aka) Jr. Walker - sax/vocals, Victor Thomas - keyboard and Willie Woods - guitar. Harvey Fuqua signed the band to his label. In 1963 he closed down his label and Harvey Fuqua brought his artists including the band with him to Motown Records; They started recording in 1964. Harvey became a songwriter and executive at Motown.
The 90's sadly brought the untimely death of Autrey DeWalt (aka) Jr. Walker, and Willie Woods. Since then, Victor Thomas and Tony Washington has united with Kenny Walker - sax and Acklee King - percussion. Throughout the 48 years of making music this band has worked side by side with Harvey Fuqua.
---

Bubblegum Show
This is a package show that is second to none. Ron Dante, of The Archie's, The Ohio Express and The 1910 Fruitgum Company. It is a power packed High Energy show that will get the audience out of their seats and dancing. Ron performs his golden hits along with many top classic rock tunes. He also does a segment and plays some of the music commercials he has written for many corporations. Ron is a class act and loves to perform for his fans. The 1910 Fruitgum Company is an act you do not want to miss. They involve the audience in some of their songs and always deliver a top notch performance. Their show is a combination of their hit recordings and some of the best songs ever recorded from the 60's. At the end of the evening Ron, the 1910 and the Ohio Express join forces and do an encore that rocks the house. If you are looking for a super show, do not miss this one when it is in town.
Ron Dante, Voice of The Archie's and The Cufflinks. "SUGAR SUGAR", "TRACY".
1910 Fruitgum Company, 1-2-3 Red Light, Simon Says, May I Take A Giant Step, Goody Goody Gumdrops and Indian Giver. Three gold records and 6 charted hits.
The Ohio Express debuted in 1967 with single "Beg, Borrow and Steal" then roared up in 1968 with "Yummy, Yummy, Yummy" and "Chewy Chewy," million sellers. The hits included: "Mercy", "Down at Lu Lu's", and "Sweeter Than Sugar". The Express's final chart bow was in 1969, "Sausalito (Is the Place to Go)."
Three major acts that started the Bubblegum Craze. Original Members in all acts. 1 band backs all acts. 1 to 3 acts.
---
Shades of Blue
On March 30, 1966, "Oh How Happy" (Impact-1007) made its public debut on Detroit radio stations WKNR and WXYZ, as well as Windsor, Ontario's 50,000 watt giant, CKLW. The platter took off like a "shot out of the blue", and blasted to the #1 spot on all three stations in less than three weeks. The record spread like wildfire into other major markets abroad, hitting #12 on the national pop charts, #7 on the R&B listings, and reaching the top ten in Canada. The overnight success of "Oh How Happy" caught everyone by surprise, as Nick Marinelli remembers: "We literally hit the road running. . In addition to a grueling cross-country tour schedule, the Shades TV appearances included several spots on Dick Clark's "Where The Action Is", and Jerry Blavat's Philly-based "Discophonic Scene" teen show. In the Detroit area, They were regulars on Robin Seymour's "Swingin Time".
July 1966 saw the release of the follow-up single, "Lonely Summer", (Impact-1014). Coming once again from the pen of Edwin Starr,. the song showcased a divine blend of satin-smooth soul and up-tempo pop. Sadly, the record was hampered commercially by its ill-timed, "late summer" appearance on the airwaves. Still, "Lonely Summer" caught on long enough to reach #25 in Detroit, and #72 nationally. Hot on the heels of "Lonely Summer" came the release of the third single, "Happiness"(Impact-1015). Both WKNR and WXYZ in Detroit jumped on the disc instantly, with the song appearing on both surveys for the first time on September 5, 1966. By all accounts, the record had the ingredients to make it a quick smash. Unfortunately, "Happiness" fell short of expectations, stalling at #21 regionally and #78 in Billboard. On September 17, 1966, the LP, "Happiness Is The Shades Of Blue", (1mpact-lO1) hit the record store shelves. The album included the groups three previous singles, along with a wonderful group-written ballad called, "The Night". A September 1966 Billboard album review described the eleven-track offering as, "A well-performed, sure-fire winner". In 1967, two final Shades Of Blue singles, "How Do You Save A Dying Love" (Impact-1026) and "Penny Arcade" (Impact-1028) were issued.
Tthe Shades Of Blue created a sound and style that remains as timeless today as it was thirty years ago. Each song evoked a sublime sense of "Happiness" and honesty that only The Shades themselves were capable of delivering. But then again, "Happiness" is what The Shades Of Blue are all about.
---
Terry Johnson's Flamingos
In 1954, Terry (at age 16) recorded with a Baltimore group called THE WHISPERS, (not The Whispers of the 1960's), on Gotham Records in Philadelphia. He wrote, arranged and sang lead on "Fool Heart" and co-wrote, arranged and sang lead on "Are You Sorry", released in 1955.
He brought that sound and talent to The Flamingos in 1956 with his first arrangement of music and vocals on "The Ladder of Love" and continued with writing and arranging, "Lovers Never Say Goodbye", "Mio Amore", "At The Prom", "Heavenly Angel", "You, Me and the Sea" and others, and also with his unforgettably beautiful production and arrangement of "I Only Have Eyes For You". Terry arranged the music, vocals and sang tenor on all of the songs on the albums "Flamingo Serenade", "Requestfully Yours" and "Flamingo Favorites". Terry sang on the duets such as "Lovers Never Say Goodbye", "Love Walked In", "Time Was" and "But Not For Me". He also sang the lead on some of their album cuts such as "I'm In The Mood For Love", "When I Fall In Love" and "Beside You".
After The Flamingos, Terry formed his own group called Terry Johnson & The Modern Flamingos. When Nate Nelson left The Flamingos, he joined forces with Terry. They recorded under the name THE STARGLOWS. They co-wrote and sang "Let's Be Lovers" on the Atco Label, a subsidiary of Atlantic Records. Terry arranged the background vocals using his group.
Still working with his group, Terry went to Motown Records as an artist and producing partners with Smokey Robinson. As an artist, he recorded several records on the Gordy Label. He wrote, arranged, and produced songs for Smokey Robinson & The Miracles, The Supremes, The Four Tops, The Temptations, Martha Reeves & The Vandellas, Edwin Starr, The Spinners, Bobby Taylor & the Vancouvers, Jimmy Ruffin, Mickey Denton, Blinky and other Motown artists.
Terry is extremely grateful for the opportunities that he has had in recording with the other members of The Whispers, (Billy Thompson, James Johnson, Bill Mills) and The Flamingos, Jake & Zeke Carey (Founders), Paul Wilson, Tommy Hunt and Nate Nelson) and the above named artists at Motown. Working with such great artists is a major part of his success.
From The Whispers, to The Flamingos, to The Starglows, to Motown Records and up to today, his legacy, sound and the success of his music continues with his own group TERRY JOHNSON'S FLAMINGOS. Many of you have already seen him around the country on the PBS special called "Rock and Roll At 50", and you will also see him on the latest PBS special called "Doo-Wop Lost And Found", filmed in Atlantic City, due to air in November of 2005.
---
The story of Johnny Maestro & the Brooklyn Bridge is one that spans virtually the entire rock era. It begins with The Crests in the latter half of the 50's, as the marriage of swing, blues and country music was giving birth to rock n'roll, and it continues today, in a period of musical and technological sophistication, with The Brooklyn Bridge, through new recordings, and a stage show that is one of the strongest and most popular on the east coast. In these live appearances, the Bridge takes its audience on a tour through the history of the band and its members, and also offers a glimpse of its current musical direction, all the while showcasing the power and artistry of the incomparable Johnny Maestro.
As the music scene changed with the British Invasion of the early 60's, Johnny searched for a framework within which he could create a new sound. He began working with The Del-Satins, a local New York City vocal group whose members included Fred Ferrara and Les Cauchi. The Del-Satins had several record releases, on of which, "Teardrops Follow Me", was a strong local hit. They had also done studio work with several artists and were most notably the background vocalists on all of Dion's solo efforts. While working the local club scene, Johnny and the Del-Satins ran into the Rhythm Method, a seven-piece band whose members included Jim Rosica on bass and vocals. The two bands were so impressed with each other that they decided to merge together. Thus was formed The Brooklyn Bridge. The Brooklyn Bridge once again brought nationwide exposure to the voice of Johnny Maestro. His powerful performance of Jim Webb's "The Worst That Could Happen" backed by the Bridge's trademark strong vocal and horn arrangements, led to a gold record for the band and countless concert and television appearances, including one on the Ed Sullivan Show. Other hits followed, including "Welcome Me Love", "Blessed Is The Rain", "Your Husband My Wife", and "You'll Never Walk Alone".
---
Sonny Turner was inducted into The Rock and Roll Hall of Fame in his own home town, Cleveland Ohio! In late 1959, Sonny Turner replaced Tony Williams as the lead singer of the original Platters. Chosen out of 100 singers to audition, at the young age of 19, Sonny toured the world with "The Platters" bringing their music to people of all nationsSonny brought The Platters back to the pop charts in the 1960's with such hits as "I love you 1000 times", "With This Ring", and "Washed Ashore"; as well as re-recording The Platters major hits like "Only You", "The Great Pretender", "The Magic Touch" (recently heard in the "The Nutty Professor II" starring Eddie Murphy). Today, Sonny performs all over the world; be sure to check his tour schedule and catch one of his shows!
---
Martha Reeves was born in Eufaulat Alabama. Upon graduation from high school, Martha joined several girls groups and performed locally as an amateur where and whenever the opportunity arose. She did it for the experience and most of the time just for the fun of it. Berry Gordy, after being asked his opinion of a demo record Martha had sung for Williams Stevenson, became interested in her talents. The group's name changed to Martha Reeves and the Vandellas, as she was featured solely as lead for the group. The song entitled, "I'll Have To Let Him Go", began the group's string of hits. Their next single, "Come and Get These Memories" marked the marriage of the Holland-Dozier-Holland writing team (known for million sellers for the Supremes, The Four Tops, Smokey Robinson and The Miracles, and Marvin Gaye).
Martha currently resides with her son Eric, in Detroit where it all began, after living twelve years in Los Angeles. Since Motown records, she has had solo albums between her live performances all over the world. Richard Perry of Planet Records produced the first one in 1973 on MCA Records. Arista released "The Rest of My Life", an album with various producers. In 1979, Fantasy Records released "We Meet Again" and in 1981, "Gotta' Keep Moving.
The love movement, the flower children of the Sixties, the dance craze generation, all music lovers in the United States and abroad accredit Martha Reeves and the Vandellas as a great influence on musical history as well as a big part of Detroit history.
Represented by Ideal Entertainment
---
Former ladies of the Supremes, Scherrie Payne, Lynda Laurence, Freddi Poole. In October 1973, Scherrie took over the role of lead vocalist with Motown legends, The Supremes. As lead singer, Scherrie recorded three albums with The Supremes, The Supremes (in 1975) High Energy (in 1976) and Mary, Scherrie & Susaye (in 1976).
When The Supremes disbanded in 1977, Scherrie went on to record one final "highly acclaimed" Motown album Partners (1979) with Susaye Greene (also of The Supremes) as "Scherrie & Susaye". Regrettably, this album was never issued in the U.K. Amongst Scherrie's other projects of this time was the writing of a musical called "Ten Good Years", and her appearance in a musical show called "Dream Street". Along with Susaye, Scherrie also sang background vocals on "Animal Party", a track on James Ingram's "It's Your Night" album.
In 1986, Scherrie joined a reformed lineup of The Supremes (for legal reasons known as "Former Ladies of the Supremes" or FLOS for short) alongside Jean Terrell & Lynda Laurence. Two songs were recorded for Superstar International Records, "We're Back" and "Getaway", but sadly the company folded before the new recordings could make much impact.
During the late 1980's, Lynda was asked to join the reformed line-up of The Supremes, again filling a vacancy left by Cindy Birdsong. A string of 12" singles followed, all released on Ian Levine's UK "MotorCity" label. In 1992 Jean Terrell decided to leave the group to pursue business interests and the ladies invited Lynda's sister Sundray to join the line-up. More recently in July 1996, Sundray Tucker was replaced by new member Freddi Poole.
Represented by Ideal Entertainment
---
In 1967 the 1910 Fruitgum Company® was signed to a recording contract with Buddah Records, where they recorded a song the group really didn't like that well, but after Frank persuaded them to do it as a lark, they changed the beat and feel of the song .... To their surprise, the song skyrocketed to the top of the charts going gold.
The song of course was SIMPLE SIMON SAY'S. They immediately went on tour and did major shows, which included American Bandstand. The group toured with many acts including The Beach Boy's. They followed up with the hit, 1 - 2 - 3 RED LIGHT, INDIAN GIVER, GOODY GOODY GUMDROPS and MAY I TAKE A GIANT STEP. Most recently VH-1 filmed the group for an upcoming Bubble Gum Rock Special to air in November 2002.
---
TrulySlick is a hip hop rap group they have a East Coast, West Coast flavor. They have been performing together for one year. They have each been performing for 8 - 10 years.
Their performances is off the hook and leaves their audience spelled bound.
They have made several different televison appearances Sacramento Cable Acess and What's Happening On The East Side. They can been seen on the cover of ShoNufftimes Magazine at www.shonufftimes.com. There in the hip hop magazine called "True Magazine" this magazine can be picked up at Tower Books, Borders etc. You can also hear and see their live interview and watch them perform their hit single "Watch Me" on www.justopenthedoor.com. They have opened up for several different major acts Bush Wick Bill of the Ghetto Boyz, Ras-B of B2K etc. They've also hosted The Independent Video Show in Los Angeles. It will air mid January, 2005. They will be appearing on several other Independent video shows. The Sac Town Independent Video (Sacramento), What's Happening On The East Side (Pittsburg,Calif.) and Representing The Bay (Hayward, Calif.) Their single can also be heard on several different radio stations KSFM 102.5 and The Bomb 103.5 FM on the 916 Leak Show, KPOO Radio 89.7 to name a few. Their single "Watch Me" can be heard on Music Choice.
---
Barbie Orr is a professional comedienne (including Improv), athlete, puppeteer, belly dancer, voice actress, singer, drummer, runner, precision driver (is there anything this girl can't do?)and full time dog lover! She is a comedy regular at The Comedy Store and has also appeared at Dangerfield's,The Improv, Sidesplitters and many more.
She has appeared on several television series and done much voice-over / cartoon work. She has done a great deal of charity work (esp. where animals are concerned) Next to Betty White, she may be show business's premiere animal lover. Whether it's a cartoon voice or an action TV host or a sketch comic...It's Barbie Orr...nothing!
Hair: Blonde Height 5'4"
Eyes: Amber Weight 95 lb.
---

Cathy Kleinberg is one of the most sought after models in the industry. She has done Trade/Car Shows for Revoln, Clarins, Polo Sport, Hormel, BMW, Land Rover, MG and several liquor companies. She has been MC for fashion shows for Surf Illustrated, Grand Orbit & Sheraton Hotel. She has done photo work for Triumph Bra, Haines Hunter Boats,Devine Homes, Ugly Clothing, Sun Lovers Holidays, Latones Make up and Surf Illustrated. She's appeared in such TV commercials as Chaps Menswear and Eagle Boys Pizza. She has even starred in the groundbreaking Microsoft commercial directed by Spike Lee. Her episodic TV work includes Las Vegas and The Lost World and was also in the motion picture "Flipper." She is available to travel worldwide (as she has done many times) and dedicated and professional
Cathy is Australian/Slovak, with Blonde hair, Green Eyes, and Olive Skin. 5'4".
---
Going back to a grandfather who sang with the Tommy Dorsey Band, Gina Fox can follow her musical lineage three generations. Inspired by Diana Ross in "Lady Sing The Blues", Gina began he own love affair with jazz and blues. A featured member of "Dennis Gruenling & Jump Time" Gina has her OWN band now (and a really cool name). "The Gina Fox Band" is finally here... listen up, you'll be glad you are too.
---
On her self-titled debut album, Rose Falcon has crafted a collection of powerful songs blurring the line between the traditional and the unconventional. These songs tell her story and, at the same time, they tell a little bit of everyone's story.
Rose Falcon is like every other 18-year-old and yet, she's probably not like anyone you've ever met. Like many adolescents, Rose grew up feeling like an outsider. When she discovered her gift for music, she realized that the thoughts and feelings that she thought set her apart were, at the same time, universal and that music gave her a way to communicate and connect. "I was never drawn into the typical things that my friends were doing," she says. "But when I began singing and writing songs, it was like: yes! I finally found what I loved to do."
Rose Falcon rings true, an album unlike anything else on the scene right now. Rose's lyrics--sometimes wistful, sometimes playful, always clever--are an authentic depiction of life, capturing the times when it's good and the times when it hurts. Rose Falcon brings joy, pleasure and wonder to her music while addressing some of the toughest issues a young person can face. "I write about how I see things," she explains, "and how they make me feel."
---
With their modern, polished sound Dirtnap finds themselves garnering a larger fan base eager to listen to their innovative form of metal."We're looking to expand our following and make careers out of the music we play" remarks guitarist Mark Peters.
As a band, DIRTNAP is always creating new music. They are hard at work at what will be their 4th full length CD since 1999. Take the time to take a "dirtnap." It's one nap you won't want to wake up from.
---
Get ready for SugarSmaX!
What kind of night are you in for when you fuse the energy of 5 electrifying personalities, combined with explosive amounts of unbelievable raw talent, erupting with sizzling hot grooves from the 70's, retro pop-culture from the 80's, a dynamic blend of rock and pop from the 90's, and the latest, most popular music from today all wrapped up in one neat little package? You're in for a night of fun and excitement!
SugarSmaX, based out of Charlotte, NC has all the sure signs of executing at the highest of levels. Having traveled the country and entertaining thousands along the way, SugarSmaX performs from one of the most versatile song lists in existence. This has been a key to their continual success in creating a strong fan base and pleasing clients nationwide. You have undoubtedly written your own iron-clad guarantee that your event will be a sure-fire success when you have SugarSmaX on board!
Having put the final touches on the band in early 2003, this hard-working, self-driven group of six hit the road and has managed to infiltrate the music scene across the land.
---
The Rory Partin Band is a must have 18-piece Big Band. They've played 6 Presidential Inagural Balls, for corporate companies including, Coca Cola and the American Heart Association, and for hotels including the Ritz Carlton Lodge, and the Grove Park Inn.
Rory says of his music and style, "As a big band and jazz singer, I'm a young Frank Sinatra meets Mel Torme. When I sing R&B and Soul, I'm part Ray Charles passion, Luthor Vandross seduction, and Stevie Wonder funky. My band features musicians that have played with such legends as Bobby Darin, Harry James, Tommy Dorsey, Maynard Ferguson, The Temptations, and Buddy Morrow."
Rory's band, with its swinging saxes, screaming trumpets, smooth trombones and driving rhythm section, is a must-have for your event. The soulful voice of Rory Partin and his Big Band is the captivating escort that leads you through this exciting concert experience. So sit back and relax or get up and dance. If you love great music, jump on board, and get your kicks on SWINGIN' 66!
"Rory has a young, hip, with it attitude that shines through in his music. He brings a magical ambiance to any event and pleases every crowd with his charismatic tunes."

– Manager, Ritz Carlton Lodge, Reynolds Plantation, Greensboro, GA

"I have two words for Rory Partin -- Class Act! As an artist, Rory shines with professionalism and high energy; he's the real deal. I doubt you'll find anyone as truly talented and authentic."

– Event Planner, Tennessee Valley Authority, Chattanooga, TN
---
Bob Hoose And His Orchestra
Bob Hoose has quickly become one of the top vocalists in the country today. He has been wowing crowds of thousands along the east coast and throughout the country for years with his strong vocal ability and natural talent. Bob's concerts have strong appeal to long-time fans of the American Songbook while at the same time introducing this classic music to a new (and rapidly growing) younger audience!
Bob has his own unique way of interpreting the American Classics with a style all his own. Recently, Michael Buble' has become a huge inspiration. "Buble' is current proof that people want to hear this type of music and they want to see it performed live."
"Bob Hoose And His Orchestra" are gaining quite a following as one of the hottest new acts in the country today. While performing their specialty show "A Celebration of Sinatra" may be challenging enough, they pride themselves on unique and special arrangements that they always include in every concert performance. Bob and the orchestra have performed at various large Corporate Events throughout the United States and Canada for L'Oreal, Redken and Lancome to name a few.
Testimonials:
"You're sure to be swept away by Bob Hoose as he breathes new life into these timeless classics!"
"Music fans are flocking to see Bob Hoose And His Orchestra!"
"This show is something to see for all musical lovers"
The Bob Hoose Orchestra rivals any orchestra you might see in Las Vegas or Atlantic City and are often compared to the Count Basie Orchestra! Their highly acclaimed CD release "Something Old, Something New" (Hyd Records) has received national and European attention. "If you're looking for a record that proves that there are still musicians who know how to play with both technique and feeling, I highly recommend this. This CD is a great mix of Bob's take on classic songs with his own songs and arrangements mixed in. This is a guy to watch." David Hooper "IndieMusician.com" (Nashville, TN)
Bob has headlined command performances at Donald Trumps "Mar-A-Lago" and the Breakers Hotel in Palm Beach. He has also been backed by the world renowned Woody Herman Orchestra, the Tommy Dorsey Orchestra and more recently the Palm Beach Pops with Lynn Roberts, all to SRO crowds.
---
Duke Ellington Orchestra with Paul Ellington. Duke Ellington was eulogized as "the supreme jazz talent of the past fifty years" by critic Alistair Cooke in a 1983 issue of Esquire. A prolific composer, Ellington created over two thousand pieces of music, including the s tandard songs "Take the A-Train" and "It Don't Mean a Thing (If It Ain't Got That Swing)" and the longer works Black, Brown, and Beige, Liberian Suite, and Afro-Eurasian Eclipse. With the variously named bands he led from 1919 until his death in 1974, Ellington was responsible for many innovations in the jazz field, such as "jungle-style" use of the growl and plunger, and the manipulation of the human voice as an instrument--singing notes without words. During the course of his long career, Ellington was showered with many honors, including the highest civilian award granted by the United States, the Presidential Medal of Freedom, which was presented to him by President Richard M. Nixon in 1969. "No one else," concluded Cooke, "in the eighty- or ninety-year history of jazz, created so personal an orchestral sound and so continuously expanded the jazz idiom."
Duke Ellington was active as a performer and composer until his death of lung cancer on May 24, 1974, in New York City. Though his audiences constantly demanded such old standards as "Mood Indigo" and "In a Sentimental Mood," Ellington preferred to look ahead and develop new songs for his band. One of his last was "The Blues Is Waitin'." After his death, his only son, Mercer Ellington, who had been serving as the band's business manager and trumpet player, took over its leadership. Mercer Ellington led the orchestra until his father's death in 1974, continuing The Duke's tradition of constant touring, one-night engagements and high-intensity, hard-driving jazz. When Mercer passed away, Duke's grandson, Paul Ellington took over the leadership role.
Represented by Ideal Entertainment
---
"I think I just saw
Elvis
..... and he was with
the Beatles
!"
That's the reaction you'll have when you experience paying tribute to the most influential entertainers in the history of Rock & Roll-- The Beatles and Elvis Presley. The MuddCatts.
SAY HELLO to the hottest Tribute act from Texas. The MuddCatts, a tribute to the Beatles and Elvis, bring a Vegas style show with outstanding musicianship and solid vocal talent. The MuddCatts kick things off with a tribute to the Beatles from the early '60's, nailing all of the number one tunes that made the British invasion so powerful. After a solid sampling of the mop-tops, enter the King of Rock-N-Roll himself, Elvis! Johnny Mandell brings to life the man, the legend and, he does it with the help of the MuddCatts bringing all live music with big energy and professionalism. This five year project has been hailed as an icon for entertainment from Central Texas and as steadily growing on the entertainment charts of success.
This act has the costumes, the look and the stage presence that has thrilled and attracted crowds of all ages! From Texas, The MuddCatts can take their own sound to the five state area but are willing to travel the world to bring this tribute to the masses. Professional, easy to work with, and available for serious tour consideration, this group is poised and ready to hit the road.

---
BREAK! The Urban Funk Spectacular traces the history of Hip Hop Dancing over the last thirty years. It is a high energy tribute to this creatively-charged American art form. A combination of pure physical strength and agility propels this group of New York's finest urban artists through a show of breathtaking movements to a pumping soundtrack with a live DJ and Master Percussionists.
Cast members are supremely talented artists from the world of "Breakdancing", "Locking", "Electric Boogaloo" or "Popping," Power Tumbling, as well as DJ-ing and Bucket Drumming. Many have been featured soloists in performances with such show-business legends as Madonna, Janet Jackson, B2K, 50 Cents, Ringo Star, Whitney Houston, Puff Daddy and Luther Vandross. BREAK! - based in New York City - has received standing ovations across five continents for its sensational show.
---
Brazilian Carnival Shows brings to you the best of Brazilian and latin entertainment.
No matter what the entertainment style, Brazil Carnival Shows brings the exotic flavor and excitement of the sensual Brazilian cultural and the colorful glamour of the Latin Styles.
---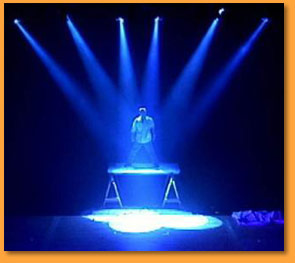 Jonathan Bayme performs to sold out audiences of over 1500 seats-- with standing room only. He travels in 50-foot eighteen-wheelers to transport his illusions from theater to theater. He maintains a crew of over 15 professional theatrical technicians. He's been featured on ABC, CBS, and NBC stations, and countless newspaper articles throughout the SouthEast. And one more thing... he just turned 17.
JB first got his start in magic at the age of five. Since then, Jonathan has kept performing and practicing, enhancing both his technical skill in addition to level of performance. Starting with close-up magic, Jonathan has carefully studied and practiced every genre of magic, including his favorite type of magic, illusion.
After getting a firm grasp on close-up magic and sleight of hand, Jonathan began reading nearly every book he could get his hands on to learn more and more about performing on stage. Today, after extensively studying stage performance, acting, and stagecraft for over 5 years, Jonathan has begun to exhibit his skill and passion for magic in his live stage shows.
Bayme's beginnings trace back to his first theater performance on December 29, 2000 at the Garden Theater in Charleston, SC. The performance sold out, with standing room only.
Today, Jonathan continues to work on creating new, original illusions, and to enhance the production in every way possible. The show is new; edgy; modern; and, most of all, unique. The illusions are all original-- loud, in-your-face, and extremely visual. The scale is huge, the impact is enormous, and the experience is absolutely unforgettable.
---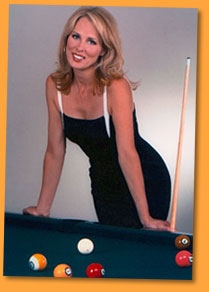 Ewa Mataya Laurance

Member of the Billiard Congress of America Hall of Fame
Winner of all major events on the WPBA Tour, including the World Championships, the U.S. Open, the WPBA National Championship, as well as the European Championships
Two time Player of the Year and recipient of the WPBA Sports Person of the Year Award as well as the Billiard and Bowling Institute of America Industry Service Award
Appeared on the cover of the "New York Times magazine" and been featured in major publications, including "People Magazine," Sports Illustrated," and "Glamour Magazine"
Appeared on "Letterman," "The Today Show" and "Live with Regis and Kathie Lee" "The Best Damned Sports Show, Period" and other national shows
ESPN Commentator and Brunswick Billiards spokesperson, Ewa also represents "Boston Billiard Club" on the WPBA Classic Tour
Current President of the Women's Professional Billiard Association and known as the premier spokesperson for the game of pocket billiards and the women's tour
Performs trick shot shows and exhibitions all over the world
A former model, Ewa has appeared in ads and commercials for "No Nonsense" pantyhose and Brunswick Billiards
Author of three books on the game: "The Ewa Mataya Pool Guide," The Complete Idiot's Guide to Pool and Billiards," and the " Quick Start Guide to Pocket Billiards," and writes a monthly column in "Pool & Billiard Magazine."
---
DJ Chef. Why hire just a DJ when you have a DJ and a Chef! DJ Chef Marc Weiss can mix the music at your next event... and mix up ingredients to some fabulous finger food at the same time! Marc's engaging personality spices up every party, promotion and event he's involved with. DJ CHEF will make your next event unique & exciting as he cooks to the beat! (He is also available just to spin the tunes). Contact us to find out the different variations of this service & how we can customize it to your specific needs.
DJ CHEF was recently featured on the Food Network's "What's Hot! What's Cool!" FUSE, MTV, ABC & NBC News. Marc has also been featured in Time Out New York, New York Post, Newsday, and LI Weddings Magazine & Right On! Magazine. He has performed for top companies, venues & events nationwide including; Macy's Herald Square, Gucci, Estee Lauder, March of Dimes, MTV Networks, Mecedes-Benz and Williams-Sonoma.
"Hey DJ Chef! You did a GREAT job... your timing was perfect... you pumped everyone up with great music just as the martinis were kicking in! I've got a lot of tired people in the office today and lots of compliments. Your Chocolate-Kahlua Banana Bread Pudding was sinfully delicious! We did a great job and I thank you for all you did."

– Dana Bertotti, Project and Events Manager, BiZBash Media
---
Master illusionist Lyn Dillies has mesmerized audiences of all ages throughout the United States and Canada for over two decades. Hailed as the finest female magician in the land, Lyn's engaging personality, along with hypnotic lighting effects and dynamic music, wrap the audience in a blanket of spectacular, eye-defying illusions that keep them saying, "How did she do that?"
Chronicled frequently by television appearances, Lyn has shared the stage with such notable entertainers as Marvin Hamlisch, Crystal Gayle, and Mikhail Baryshnikov. She has performed with a live symphony orchestra at Lincoln Center combining the majesty of classical music with her breathtaking illusions. An original concept that took years of planning, Lyn performs her "Magic At The Symphony" program with symphonies all around the country to encourage children to discover the magic of classical music while experiencing the harmony of her illusions.
Lyn continues to amaze audiences with incredible illusions such as "Metamorphosis", "The Window", "Human Diffusion" and "The Twister", just to name a few. But illusion is only half of The Magic Of Lyn, the lady herself is the other half. From the moment she first appears on stage, Lyn puts the audience on the edge of their seats and in the palm of her hand. This slender blonde banters and dazzles her way into the hearts of all who witness her Houdiniesque feats. It is no wonder why Lyn Dillies is one of America's top illusionists.
---
Victoria Boland, a multi-talented singer-songwriter, is one of the most versatile and charismatic performers you'll ever meet. A real showgirl at heart who lives for an audience, she can put sizzle into broadway and life back into the old standards in a "Las Vegas" setting, or silence a noisy lounge with her evocative renditions of "At Last", "Stormy Weather" or "Lover Man". But at the same time, Victoria is a seasoned country artist whose powerful and moving vocals combine the heart and soul of Patsy Cline with the sassiness and energy of Shania Twain.
Victoria is a two-time winner of scholarships to Boston's Berklee College of Music for Jazz. She is also the reigning female champion of the 2004 Canadian Open Country Singing Competition. She has performed for thousands at a Shania Twain concert, at Queen Elizabeth's Golden Jubilee Celebrations and at the Opening Ceremonies of the World Cycling Championships.
As a singer/songwriter, Victoria wrote, produced and toured with her own country music cd, ALL WOMAN GIRL, in 2002/3. As a recording artist, she is "the full package" and she's had the pleasure of working and recording with world class musicians like members of Elton John's band (Davey Johnstone, Nigel Olsen, Bob Birch and Guy Babylon). While Victoria also models, writes and records jingles, does movie work and is a Shania Twain tribute act, her focus is on her singing and performing skills. Her long-term goal: to become an international recording artist and live entertainer. Her favourite place: ON STAGE!
---
Brian Edwards provides an alternative to the traditional band or DJ for wedding receptions, parties, anniversaries, clubs, or just about anywhere you need quality musical entertainment. He is a solo performer who brings with him all the recorded backing tracks to accompany him while he sings and plays either electric or acoustic guitar. All tracks are digitally recorded by Brian. This concept allows him to offer you all the benefits of a live, interactive show, at a cost which in many cases is less than a good band or DJ.
Brian has been performing in bands and as a solo performer in and around the Hudson Valley for years, and is recognized and loved by many who have seen his show or hired him for a particular function. His influences are varied; rock, acoustic, alternative, blues, new age, all which blend together nicely as he strives to give the crowd and client what they want. He has many dance sets including the likes of The Beatles, Clapton, Elvis, Little Richard, Jimi Hendrix, Cat Stevens, Jimmy Buffett, Skynrd, James Taylor, The Eagles, Neil Young, Saliva, Tonic, and many, many more.
A few of the places at which Brian has performed are Mariners Harbor, Hyde Park Brewery, Juniors, Beekman Arms as well as countless private functions including the most recent Republican Convention in New York City.
---
Get ready to rock around the clock with The Wonderelles! A wholesome, high-energy, elegant 50s and 60s revue that will bring you back to that era. Watching this 50's & 60's Girl Group perform in either poodle shirts or rolled-up jeans outfits, or silver-sequined debutante style dresses, or a hot blue-sequined mini-dress, you will find it hard to sit still in your seat. From "Johnny Angel" to "Mustang Sally", from "Sugartime" to "Proud Mary", THE Wonderelles give you a touch of nostalgia that will leave you with a smile on your face.
THE Wonderelles have performed at many different events all over the country: Corporate events, private parties, conventions, fairs, car shows and the like. They most recently were seen as the opening act for Lainie Kazan the star of My Big Fat Greek Wedding in Detroit for Variety Children's Charities.
The show is completely choreographed, with harmonies and solos. There is cute dialogue, and of course, no one is completely safe from our very humorous and fun audience participation. THE Wonderelles show comes with its own sound person, equipment mover and P.A. sound system.
Depending on your needs and budget, we now can work with or without our live band.
---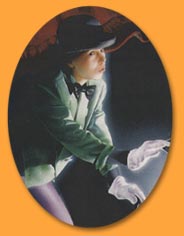 Karla Kartoon has performed mime and magic at over 1000 performances. Her evening of entertainment includes three "animation" characters and a 30 minute stage show. The animation characters mingle with the crowd and go table to table performing close up magic. Special characters and stage material can be created to go with the theme of your event.
The stage show comes at the end of the evening and will leave the audience spellbound. The illusion theater shows breaks the language barrier through it's original use of mime, music and dance. The constantly changing characters will keep the audience riveted to the stage with their many masks and magical effects.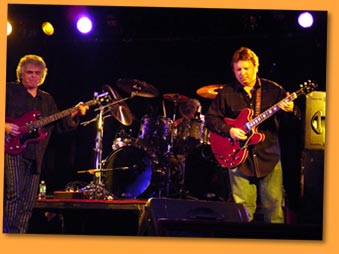 Ultimate Cream performing the entire Cream catalog including the classic hits and rarely heard tracks from Fresh Cream, Disraeli Gears, Wheels Of Fire and Goodbye.
Joe Venti (Bass, Vocals) is a former bassist for Leslie West, mentored by Leslie West (Mountain) and Felix Pappalardi (producer of Cream and original bassist for Mountain), and went on to play with many acts of the 70s and 80s. After seeing the Cream reunion shows in October 2005, Joe formed this tribute band to honor rock's first "super group" along with fellow Cream enthusiast Rob Napoli (Drums, Vocals), a talented jazz/rock studio drummer with many well known studio performances under his belt including stints with Donna Summers and Gloria Gaynor in the 70s and 80s. Together they started searching for "Eric" and found him in blues guitarist Paul Kezmarsky (Guitar, Vocals), a journeyman musician who faithfully recreates Clapton's sound and technique with incredible intensity and feeling.
Together they form the ultimate tribute to The Cream!
---
"The Soul Classic Show is a show about all classic songs that move your soul". No one better to bring that to a stage than Las Vegas' very own Bobby Brooks Hamilton. Known too many as the son of legendry soul singer, Mr. Excitement, Jackie Wilson. Bobby brings to the stage all the excitement, vocal amazement, dancing and audience participation that will bring an audience to their feet.
In addition to this show he strolls down memory lane on legendary artists that have influenced his life such as Little Richard, Johnny Mathis, Charlie Pride, Stevie Wonder, Marvin Gaye, Nat King Cole and Ray Charles, just to name a few. The show continues with Bobby changing characters without leaving the stage. This show is outfitted with a five piece band and supporting act that supplies the legendary likes of Tina Turner, Whitney Houston, Donna Summers, and Aretha Franklin. This show is set to fit any format from 15 to 90 minutes.
---
Brooke Forbes originally hails from Sault Ste.Marie, Canada. Currently living in New York City, Brooke has studied since the age of 6 in ballet, jazz, tap, voice and theatre. She has danced professionally with dance companies touring Europe, Japan, Morocco, Hawaii, Canada and the United States. In Monte Carlo, Brooke performed with Frank Sinatra, James Brown, Diana Ross, and the Temptations. In Las Vegas, Brooke has performed in several engagements for Harrah's Casino. For the Canadian Armed Forces Brooke has performed in Bosnia and Sarajevo.

As a vocalist, she has appeared with the Starlight Orchestra, most notably in a gala performance for the President in Washington.

As a choreographer she has choreographed numerous shows including: the King's Gala for the King of Morocco, and the "Spice Live, Britney and Backstreet Tribute", as well as the "Ricky Martin", and "Kiss Tribute" in Toronto and in New York City for the off-Broadway Theatre "Tatou".

Brooke has also been featured in many worldwide commercials, including GM Cadillac, Toyota, Labatt's Blue Beer and Hostess Frito-Lay.

She launched the campaign for Galoob Toys "Skydancer" doll, originating the part of the live character in New York City. She sings and dances live, (no lip-syncing) as "Madonna" in her own "Ray of Light" tribute act.

Brooke is a professional member of the Screen Actors Guild of America, The Alliance of Canadian Television and Radio Artists and Actors Equity Association both in Canada and the United States.
---
Shania Twain's Twin: Victoria Boland
Are you looking for the very best Shania Twain impersonator or tribute act for your upcoming event? Do you need a "Shania twin" who does more than just look and sound like the superstar? You've found her in Canadian singer/songwriter & international entertainer, Victoria Boland.
Those of you familiar with this beautiful, young Canadian entertainer, based in Hamilton, Ontario, who is herself a singer/songwriter and recording artist, should find it no surprise that Victoria loves impersonating a superstar with whom she has so much in common. We call it "The Twain Connection"
---
AndrewVictoria
High-tech Duo and Tributes
Why is AndrewVictoria "not just another duo"? Because here's a duo that offers you choices! Choose between a hi-tech electric/acoustic duo with a full band sound and offering over 400 songs in all genres from old standards to current hits OR a full-blown tribute act to celebrities such as Shania Twain, Tina Turner, Cher & Marilyn Monroe with spots of David Bowie & George Harrison (Beatles) thrown into the mix. Or how about a Shania Twain/Keith Urban Tribute show? With performers like Andrew & Victoria, anything's possible because this is "not just another duo"!
---
Nuthin Fancy The LYNYRD SKYNYRD Tribute Show.
From it's members hardscrabble beginnings to their rise to worldwide fame to the tragic plane crash and its aftermath, Lynyrd Skynyrd has survived to Rock N' Roll millions of loyal fans! Now you can see Skynyrd as they were in 1977 through "Nuthin' Fancy" as they play that unique synthesis of blues oriented Southern-Rock just like the boys from Jacksonville Florida and Sweet Home Alabama, recreating the relentless Skynyrd drive, rebellious Southern swagger and down to earth sensibilities that brought millions of fans together in the 1970's. "Nuthin' Fancy" brings Ronnie Vanzant, Steve Gaines, Allen Collins & Leon Wilkeson back to life again, taking you through a unique journey reliving, remembering and celebrating a truly immortal American Band!… Possibly the greatest Southern Rock Band that there ever was or is to date, bar-none!
---
Gene Stewart A Tribute to Sam Cooke.

We call him Mr. Smoothy, and yet you haven't heard all the talents this man has to offer. Now we are here to present one of the best, and maybe the last of his kind.
Soulful singer " Gene Stewart " has established himself as a true pioneer that's dedicated to the craft of music. "A Change Is Gonna Come" his CD single is a sure masterpiece to salute his idol, The late Sam Cooke.
Born in the buckeye State of Columbus, Ohio now live in the Chicago suburbs, Gene has years of experience as a performer, and has always been sort of called, the voice behind the scene. Now the years of experience and patience has finally paid off, and we can enjoy his beautiful rich talented silky, smooth voice. Gene is also member and one of the lead vocalist of rock & roll hall of fame inductees, and gospel hall of fame inductees, "The Legendary Soul Stirrers".
Gene Stewart has performed at concert halls, nightclubs, fairs, and special events all across the lands. He appeared on radio and television shows such as: The Chicago Talent Showcase(Tv Program), Saturday-Nite Sing(Gospel Tv Program).
---
In a relatively short time, Tom Bartlett has become one of the biggest and brightest stars in the galaxy of professional Elvis Tribute Artists. He shines onstage, performing an amazing 70s tribute complete with an 11-piece band, dancers, and upon special request, Elvis' original backup singers The Jordanaires , The Stamps and The Sweet Inspirations! And just like Elvis, Tom sizzles in a jumpsuit! His striking good looks, charisma and wit leaves the ladies in the audience all hot and sweaty and thirsty for more. Tom Bartlett's tribute show is such a fantastic treat, that this ETA has successfully transcended from stage to film, television and magazines. Thus, becoming one of the most sought-after tribute performers in the business.
As Elvis Presley, Tom Bartlett delivers the best in entertainment. He performs as Elvis primarily in central Florida and Las Vegas, but can travel all over the United States and internationally, and is available for bookings.
---
Keith Boswell, born and raised in Camden Pont, Missouri has been performing the best of "Elvis" for the last several years, and is recognized as one of the best impersonators with a touch of class.
Authenticity plays a critical role in his performances, and personally means a great deal to Keith. Boswell has many prized possessions of Elvis, including jewelry made by his friend Mike McGregor of Mississippi who was, one of Elvis's jewelry designers. McGregor has made belts, rings, and the famous TCB with flash that Elvis gave to his best friends. Boswell incorporates these into his performance to make things as authentic as possible.
Recreating memories of of Elvis for fans young and old alike has been Keith's main focus since he began singing. One of the reasons he decided to be an Elvis Impersonator was when he heard someone putting Elvis down. Keith believes in what he does, and has spent many years researching the real Elvis Presley. Keith has many friends that knew Elvis personally, one of his bestfriends who sadly passed away was Mike McGregor. Mike was Elvis's jeweler, as well as worked with the horses. Other friends include Joe Esposito, Wayne Carmen, Marion Cocke, George Kline and many others. When you watch and hear Keith perform you can feel his passion, and hopefully for a time,you'll be closer to Elvis.
Keith does three speciality performances for audiences. The first is "Elvis On Tour". an upbeat two hour show that contains some of Elvis's best gospel and love songs including two costumes for any group of audience. Next is "Elvis In Las Vegas", a one hour Las Vegas style performance that Elvis sang at the International Hotel. This show is considered one of the best. And last, "Elvis At Madison Square Garden", an intimate show featuring songs that Elvis performed to a packed house at Madison Square Garden in New York. Keith also has a "Legendary Memories" show that was his vision for several years. With Keith as Elvis, and other impersonators doing Roy Orbison and Patsy Cline, they bring back memories that touch the heart.
Boswell prides himself on award winning, professional performances. It is with great pride that Keith Boswell plays tribute to "The King of Rock and Roll, Elvis".
---
Jeff Rainey
From a simple karaoke contest in 2004 to what has become an outpouring of fans and concert dates. Jeff has been asked to perform in Theaters, Civic Centers, Nite Clubs, Private Parties and Cruise Ships. Attending his first contest ever in Branson, MO. in 2005, Jeff made it to the finals where he placed 8th out of 42 other contestants. Jeff is the grand champion of the Isle of Capri contest in Lake Charles Louisianna. Jeff Rainey has established himself as a true tribute artist in a very short period of time. Jeff's love for Elvis and his music span 30 years.
Jeff has made many friends and fans along the way as he pours out his heart and soul to the King of rock and roll in a very high energy circa 1970 "THAT'S THE WAY IT IS" concert that will leave you shocked and amazed and for some even breathless to the detail of each performance. Always studying films and videos, Jeff says that all Elvis fans know how Elvis moved on stage and how natural Elvis made it all seem. He had an aura about him personally and professionally that will never be duplicated. We try to give people who may not have ever seen Elvis in concert and even those who have, the closest experience to Elvis on stage as possible. As long as I am able, I will continue to keep the Elvis experience alive for future generations to come. If, at any time during our shows I can bring back a piece of the past or a smile to a face, then our job is done. I would not be as far as I am today if not for all the support of my family, friends, fans and my beautiful wife Debbie. Thank you and GOD BLESS.
---
You won't believe your ears or your eyes as you watch and listen to the Amigos perform their renditions of your favorite "Santana" songs! The band "Amigos" is comprised of the finest musicians in the Sacramento area.
"Amigos" is assembled with the common goal of faithfully recreating the music, energy and atmosphere of the original "Santana" band. This very special blend of music crosses all ethnic backgrounds and is popular with all age groups. The "Amigos" flow seamlessly through all the styles of the "Santana" band.
You will hear the magical ballads created by Cartos Santana and the Latin rock percussion rhythm will beckon you to dance freely. Audience participation is encouraged and during the shows, rhythm instruments are often handed out and people are brought onto the stage to play with the band!
---
Bella Donna, a tribute to Stevie Nicks and Fleetwood Mac, is a high energy concert experience. Amazing in the detail to the music, staging and wardrobe of the legendary Stevie Nicks. The ONLY tribute to Stevie regularly featured on the Nicks Fix--official website. Audio, Video and more on our website. Listen and be impressed!!!
---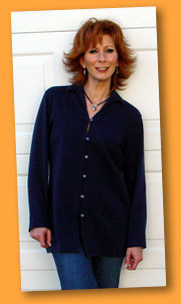 Marie, a Reba McEntire Impersonator, began her impersonation career in the fall of 1995 when she first appeared as an actress in local murder mystery dinner theater productions. Marie auditioned for the part of a Reba McEntire look-alike. Unsure as to whether there was any similarity between the "Queen of Country Music" and herself, Marie went searching for photos of the country music legend. To her amazement, the similarities were uncanny. The show ran for three months and received rave reviews.
Following the closing of the show, Marie decided to continue her venture into the arts, combining her love of music with the sheer fun of impersonating the most-beloved female country singer of all time, Reba McEntire. Marie studied hundreds of hours of music video clips and continued to perfect her singing voice until she was ready to take her show on the road.
Based on the east coast, Marie has won several local and national lookalike contests. Country Weekly magazine's grand prize celebrity contest winner, Marie received an all expense trip for two to Nashville where she was featured twice in their magazine, autographed at Fan Fair 2000, was part of the TNN Awards show hosted by Jeff Foxworthy. Her picture also appeared in Country Live magazine.
December 2001, Marie was selected to be one of eight contestants on The Weakest Link hosted by Anne Robinson where she was able to raise $10,000 for charity. November 2002, Marie was once again selected to be a character contestant on Hollywood Squares.
Although Marie has her own concert style performance show on the east coast, she also is booked by various agents across the US for corporate functions, appearances, and casino work. In 2001, she performed at The Santa Ana Star Casino in Albuquerque, New Mexico. Marie worked a six month engagement at The River Palms Casino in Laughlin, Nevada through April, 2003 and in 2004 spent five weeks working at The Tropicana in Atlantic City, NJ. She recently took the stage for a private corporate function at The Wildhorse Saloon in Nashville, TN.
Marie has fooled not only die-hard Reba fans, but Reba's band, staff and peers as well; including Tim McGraw, Ronnie Dunn, Toby Keith, JoDee Messina, Terri Clark, Linda Davis, Pam Tillis and many more. Reba's son, Shelby, said, "that woman looks just like my Mom", when he spotted Marie in the audience at a taping of the Reba sitcom, while Al Roker had security pull Marie from the audience of The Today Show telling Reba they should do a "Patti Duke, country style" show.
For fans who can no longer see a Reba performance, this is clearly the next best thing! Marie's tribute show covers various material from Reba's early career through her most recent work, and has performed for thousands of fans all over the country. Audiences continue to be amazed at the sound-alike and look-alike qualities she possesses. And as long as there are Reba fans, Marie will continue to entertain crowds with her warm, friendly, and "perky" personality unique to both Reba and Marie.
---
Cheap Chick are four females who bring the sizzling excitement and pure power pop pleasure of Cheap Trick and give it a gender-bending twist.
There is something intriguing about Cheap Chick that places them on the map somewhere far outside the confines of the cover band ghetto. You could file them under the usual classifications - Cheap Trick fans, all-girl group, tribute act. However, you'll find those simple generalizations don't factor in the ingredients that make this foursome the tastiest confection playing the concert circuit today. When Cheap Trick guitarist and founder, Rick Nielsen, refers to Cheap Chick as his "favorite new band," you can be sure they've got the ultimate seal of approval.
Like the band they imitate, these musicians have a sense of humor. They realize the inherent irony of being a tribute band, and revel in their never-ending quest for tribute band realism. Not only do they dress and act the parts they play and bring an entourage of groupies and hangers-on along with them to every show, they have a faux tribute "manager," Jim Addthemoney, who pays "tribute" to Cheap Trick's parsimonious former manager, Ken Adamany. They play a loop of a stadium full of screaming fans between songs and have even held real-life press conferences to announce their signing to indie label, Teenacide Records.
Regardless of the trappings of tribute band stardom, it's the music that matters. They take the best of the band's catalog and pump up the estrogen factor, turn-up the sex-appeal and peak out the VU meter. They've got the chops as well as the attitude that all tribute bands should have; they nail the songs with force and serve it up with a healthy dose of a true love of power pop and Cheap Trick.
---
Alan Himsey aka (Simply Rod) Stewart Tribute Artist. I'm 44 yrs young, born in Providence, RI on a bloody cold winter night - that's why I sing "Hot Legs" so much!
I've been hooked on Rod ever since "Maggie Mae" came into the picture, back in (1971 w/the faces). I've been performing Rod Tributes since 1989. The Tribute Shows that I perform have taken me over land and sea.
---
Kounterfeit Kinks are much more than simply a band playing the music of the Kinks. Our aim is to recreate as closely as possible, the sounds and styles of the classic era Kinks from 1964-1972
Authentic outfits and instruments help recapture the 1960s Kinks live experience. The only difference is the vast improvement in sound quality! Short of getting in a time machine, this is as close to a real 1960s Kinks show as you'll get.
---
Big Shot, New York's World Class Tribute band to Billy Joel and his Band. BIG SHOT is fronted by renowned vocalist/pianist Michael Delguidice, and features, on drums Sal DeVitto, brother of the famous Liberty DeVitto drummer for Billy Joel himself. The Band creates a sound and stage presence as excitingly close to an actual Billy Joel performance as you will ever experience.
"They had a hard time convincing me it wasn't me." -Billy Joel
---
Tom Sadge
After working for two decades (and over 5000 performances) as a full-time professional entertainer who not only astounded audiences with his Neil Diamond impression but several others such as Frank Sinatra, Elvis Presley, Engelbert Humperdinck, Tony Bennett, Barry Manilow and literally scores of other vocal and speaking voices, Tom decided to do a full look alike and sound alike Neil Diamond impersonation. He was an instant success and, since debuting his Neil Diamond impersonation in September 1997, has toured Canada twice and performed at impressive venues all over North America from Arizona to Toronto and from Vancouver to Florida!
The last six years of Tom's career, as a Neil Diamond impersonator, have been the most exciting of his professional life, despite the thousands of hours that went into bringing his Neil Diamond impersonation to life. To perform Neil Diamond's songs as closely as possible as the original legend - Neil Diamond - performed them is Tom's goal, and he is proud to do so. Why add to or change perfection?
As Tom says, "Nothing is more rewarding than hearing audience members tell you after a show that they got the chills because you looked and sounded so much like Neil Diamond on stage. It makes all the hard work worthwhile."
---
Formed in 1999 to showcase Van Halen's "David Lee Roth" era hits, Hot for Teacher has been relentlessly performing throughout Northern California and Nevada generating a following of dedicated fans and has amazed concert goers wherever they perform with their non stop high energy kick ass Rock-n-Roll show!
HOT FOR TEACHER's solid line-up features four of the most talented musicians who are geared-up and ready to "Rock On" with The Mighty Van Halen's greatest jams!
Vocalist Randy Monroe belts out powerful and high-energy vocal rants while supplying audiences with stage antics grooved to the beat of the music. The ripping, screaming virtuoso fretwork of guitarist Terry Lauderdale stirs audience's into the wildest of frenzy and leaves them in jaw dropping awe! Jimmi Ward's thundering Michael Anthony style bass riffs and, percussionist Larry Howe's "Bonhamesque" stick splintering, skinbashing style, creates the bottom end from hell, which blends into the perfect Rock-n-Roll drink!
Recently HOT FOR TEACHER was invited to perform for Michael Anthony's bass guitar dedication at San Francisco's Hard Rock Cafe. During that evening The Mighty Van Halen bassist joined the band on stage. The already raucous crowd shifted into overdrive as Michael and the boys ripped through an energized set featuring "Women In Love", "Unchained", "Dance The Night Away", "Panama", "Mean Street", "Outta Love Again", and "Ain't Talkin' 'bout Love".
HOT FOR TEACHER has been featured in FHM Magazine and can be heard regularly on San Francisco's 107.7 "The Bone" radio station.
---
Head Games The Foreigner Tribute
There are cover bands, copy bands, bar bands, and specialty acts. But, none more difficult to pull off than a tribute band. FOREIGNER's music presents a challenge that few bands would ever attempt. Their mix of rock and roll with R&B, classical, pop, funk, and jazz catapulted them to the forefront of popular music in the 1970's and 1980's, culminating in their mega-hit "I Want To Know What Love Is".
Forged amidst rumors of the classic rock band's impending demise, HEAD GAMES not only re-create the live FOREIGNER sound, but they capture the whole FOREIGNER experience. They deftly reproduce the band's sight, sound, and soul, ensuring that a whole new generation of listeners will be exposed to some of the most influential music of our time. They are five seasoned musicians from the New York City area (where Mick and Lou originally formed their band) who share a common love for hard rocking music. They bring together all the same elements that made FOREIGNER so hugely successful. Each member brings a long history of local success from many different NYC bands. With Mike Ledesma on lead vocals, Billy Randall on bass, Mike Dagostino on drums, Jose Damien on keyboards, and John Francese on guitar and guitar synthesizer, their tribute to the legendary rock band can only be experienced in their power packed live shows.
---
Moonlight Drive Straight out of Kansas, making a left for the roadhouse comes "Moonlight Drive", an uncanny representation of The Doors circa 1966-1969. Four young men, most under 30, yet with a real feel fore music created before they were born. From "Break On Through" to "Riders On The Storm"...They ARE The Doors in their prime and they are inviting YOU on their "Moonlight Drive"...
---
Who's Next is the ultimate tribute to rocks greatest band The Who. The show is best described as a live chronological journey of the band's career beginning with their early days as Mods through their final album with Keith Moon.
Who's Next not only tries to capture the spirit of The Who, but the actual essence of the band both musically and visually. The band recreates the era by wearing vintage clothing and using exact replicas of guitars that were used during that time period. The show also features a video anthology and interviews that are synced to the band's performance.
---
Reggie Randolph grew up listening to legends such as Dean Martin, Frank Sinatra, Tony Bennett, and of course Elvis. In August of 2000, his dreams became a reality when he auditioned and was chosen to perform on Dick Clark's "Your Big Break", a musical talent show hosted by NBC.
Since that time, opportunities have continued to present themselves. Reggie has performed in many venues across the United States and Canada. On October 12th 2001, he produced, directed and performed in his first full production "If I Can Dream", a musical tribute to Elvis. Reggie has also appeared on the Ricki Lake show, performed at the Rialto Theatre in "An American Trilogy" and been featured in Karaoke Singers Magazine. His first CD was released last year entitled "In My Way".
Reggie is a versatile performer with the ability to depict each era of Elvis' life. From the early Gold Lame and fun songs of the movie years to the raw black leather of the '68 Comeback and the legendary Vegas years, Reggie maintains a performance of incredible authenticity. He usually performs with a 12 piece band but can expand to 17 pieces for extra large shows, or a 6 piece for small shows.
---
About Us
Entertainment We Provide
How Can We Help You?
---
Quick review for all your Entertainment Needs...

Corporate Event Planning
When it comes to corporate event planning, we underpromise and overdeliver. Locolobo events Entertainment Planning is your source for private entertainment. Treat your VIPs to an exclusive concert, motivational speech, or comedy show, knowing that every detail of the entertainment is taken care of. From contract negotiations to the last detail of your event promotion, we do it all.

We have extensive experience negotiating with agents, managers, and bands themselves. Whether you need music, speakers, or comedians, we can get the entertainers you desire to perform at your event. Festivals, parties, fundraisers, or any VIP event will benefit from the exclusive entertainment that Worldwide Event Planning provides. Whether you are a small enterprise or a Fortune 500 corporation, rely on us for your corporate event planning needs.

Corporate Event Planning for Exclusive Events
With Locolobo events Entertainment Events, everything is contractual. We will negotiate the best pricing and terms for you and handle your sound and video needs as well as secure the necessary equipment. If you need ideas for your events, we can suggest big-name talent or tribute artists. For the finest entertainment at your corporate function, trust us to make your event a success.

We have a long history of executing events smoothly and efficiently. You can trust us to be reliable and dependable; hundreds of references who have used our services will be glad to share their

Corporate Events
Corporate events need to be lots of fun yet they must always be geared towards the attendees and the desired theme of the event. At Locolobo events Entertainment , we can suggest celebrity entertainment that is appropriate for your guests and your corporate personality. With our experience handling corporate events, event planning will be a breeze when you hire us. Leave the details to us and see just how smooth event planning can be.

You want to provide a fun atmosphere for your event while still keeping it professional. We have links to celebrity talent in all areas--music, sports, DJs, speakers, and comedians. We will match the talent to your event so your guests come away with great memories of your special event.

Book Concerts for Corporate Events
Let us plan an event that will create buzz long after the event is over. It will be talked about and remembered as being one of the most upbeat, unforgettable moments in your company's history. Corporate events don't have to be boring, stuffy affairs when you hire Locolobo events Entertainment to secure your talent and plan the show. Everything is contractual with our company. We are bonded, insured, and experienced at negotiating rates and terms with managers, agencies, and talent. Our reputation is of the highest quality, and we can provide references to support that. Our track record speaks for itself--when you hire Locolobo events Entertainment , you have access to big-name talent at great rates. Call us today to discuss your next corporate event.

Corporate Party Planning
Corporate party planning can seem like a daunting task unless you hire a company that specializes in it. When you work with Locolobo events Entertainment , you'll be getting top-notch entertainment at an affordable price. Not only that, but you'll also be hiring an experienced company that specializes in corporate party planning. We can handle every last detail of your event so you don't have to worry about a thing.

Providing your employees with a great party boosts morale and lets your employees feel special. Giving them a chance to relax and feel appreciated will enhance your reputation and build buzz for months afterward. We will help you select the right talent for your audience. We have years of experience matching talent to the personality and culture of your corporation.

Why take on the stress or risk of corporate party planning yourself? Hire us and you will be pleased with the results. We can secure any talent you want, from tribute artists to top-name celebrities. We are bonded and insured and will hold your payments in escrow, releasing them according to the contract we agree to with you. While our reputation speaks for itself, you might want to check out any of our hundreds of references who can tell you how well we deliver.

Expert Corporate Party Planning for the Event of the Year
Corporate party planning is a detailed job that requires expertise. We stay on top of things to ensure your party will be the best your company has ever had. Hold a private concert, exclusive speech, or elite comedy performance. From planning to promotion, Locolobo events Entertainment will ensure that your party is the event of the year.

Corporate Event Ideas
If you are looking for corporate event ideas, look no further. Locolobo events Entertainment is dedicated to matching the right talent to your event. We plan every detail of your event, working with you to ensure that your guests will be happy and the event will be profitable for you.

Our years of experience have given us lots of corporate event ideas for future events. We know what different types of crowds will respond to and which talent is right for your audience. Whether your event is a concert for thousands of people or a small private speech, we can provide the entertainment you need to make your event a success. We are mediators who are not affiliated with any particular artists. That means we can negotiate contracts and terms with any artist you wish, working for you. We have links to many agencies, managers, and artists to secure the appropriate talent you want, from local artists to world-class celebrities.

Different Corporate Event Ideas
From festivals and fairs to exclusive VIP cocktail parties, Locolobo events Entertainment is your source for corporate event ideas. We plan and execute your event, from invitations and promotion to equipment and supplies. Our expertise ensures that your event is unique and highly rated, without being outrageous.

Talk to our references to find out how we've helped them in the past. Then, speak to us to learn how we can make your event as good as theirs. We strive for perfection and won't stop until you are satisfied. Corporate events are elite, exclusive, and private. We'll help you make them unforgettable, too.

Event Planning Companies
At Locolobo events Entertainment , we know that you can choose from many event planning companies. Why choose us? We are experienced, have an unbeatable reputation, and access to nearly every celebrity out there. Trust us to make your event memorable. We have a reputation as the most dependable event planning company in the industry.

Many event planning companies promise a lot and don't deliver. We produce for our clients--just ask any of the hundreds of satisfied customers we've worked with. We have produced many successful shows from festivals and fairs to comedy shows, private concerts and VIP meetings. Don't be fooled by other event planning companies. Only Locolobo events Entertainment handles your event from start to finish, helping you keep your employees satisfied and helping you profit from the event.

Locating Knowledgeable Event Planning Companies to Plan it Right
Event planning requires a lot of attention to detail. We let you focus on your core business while we plan your event. From invitations to marketing to the color of your tablecloths and napkins, you will not have to worry about a thing.

Call us today to start planning your event. During your free consultation, we'll ask you many questions about what you hope to gain from the event. We can provide unique ideas to make your event special, while incorporating your vision for the event. Let us plan your corporate party and negotiate the talent contracts, and people will be talking about it for months to come.

Corporate Event Management
Allow Locolobo events Entertainment to handle your corporate event management and take the work off your shoulders. We have years of experience in the entertainment business and are affiliated with LocoLobo Events, a team of highly successful event planners. We have expertise in entertainment as well as in professionally managing events from start to finish. For your classy corporate party, invitation-only concert, or private lecture, Locolobo events Entertainment delivers.

Whether you are looking to serve a crowd of thousands at a sporting event or boast a smaller, more exclusive guest list, we will tailor your event to the culture of your company and the personalities of your guests. We know how to read crowds and understand what they want. We can select entertainment based on their preferences to create a truly memorable outcome for all your attendees.

Locolobo events Entertainment for Corporate Event Management
With top-name entertainment, professional marketing, publicity spots, and a well-planned evening, you can be sure that you'll receive excellent attendance at your function. We will find the perfect location for your event, coordinate food and beverage and seating arrangements, and then negotiate the best rates on talent. We'll have a comprehensive plan for executing each and every fine detail of your affair, ensuring its success.

Corporate event management does not have to be a headache when you allow us to handle it. Imagine your guests having the times of their lives and talking about your party for months afterward. That's the kind of response you will get when you leave your corporate event management to us.

Special Corporate Events
Special corporate events keep your employees motivated and raise morale. They are used to thank people for a job well done, to celebrate success, and recognize individuals who have helped the company move forward. Special corporate events such as awards banquets, company picnics, and holiday parties let everyone enjoy camaraderie and strengthen both friendships and management-employee relations.

At Locolobo events Entertainment , we specialize in creating memorable events. Planning any type of company event requires a significant amount of time and attention to detail. If you lack the expertise or staff to handle the amount of work involved, allow us to plan your next event. Not only do we have a full staff with years of experience, but we also have connections to the best name-brand talent available. Host a corporate party with celebrities, tribute artists, comedians, and celebrity speakers, you'll give your attendees an event that is truly meaningful.

Planning Special Corporate Events with an Event Management Company
Using an event management company like Locolobo events Entertainment will help you determine which type of special corporate events to host. Depending on your marketing strategy and business plan, you might benefit from a motivational speech for everyone or a special recognition luncheon for a select few stars on your team. We can help you figure out which events will have a lasting impact, and handle all of the planning and execution, too.

Special corporate events are not just memorable for employees and guests. They can be very profitable for you, too. Contact us today to discuss your needs, and we will show you how events like these can build relationships and help your company profit.

Corporate Event Organizers
Hiring corporate event organizers like Locolobo events Entertainment ensures that your event is a success. By working with us, you will make the party planning process smoother and easier on everyone involved. Event planning requires a significant commitment of time and attention, and if your event fails, you'll hear all about it from your supervisors. Why put tremendous pressure on yourself when you can leave the planning to the professionals?

A great benefit of using corporate event organizers is that we know how to read audiences. At Locolobo events Entertainment , our experience has taught us how to gauge crowds to give them what they want. Doing this allows us to provide just the right entertainment, the perfect theme, and activities that everyone will enjoy. We will help you select a location and a theme for your event, as well as plan appropriate activities for your particular attendees.

Hiring corporate event organizers for your corporate party planning needs, outdoor festivals, or fairs can also bring in higher profits. We have connections to top-name entertainment and can book anybody you choose. We negotiate the best terms and rates with booking agents, talent managers, and even the entertainers themselves. Promoting your event in advance will build momentum and encourage early ticket sales, increasing demand which, in turn, increases publicity. You can see how this cycle clearly builds profits.

Book Bands through Corporate Event Organizers
Hiring top talent need not be challenging. If you need help planning your party and hiring top-level talent, turn to Locolobo events Entertainment . Let us show you how to make your function a highly profitable, smashing success. Contact us today to discuss your vision for your next corporate event.

Corporate Event Planners
For your next corporate meeting or celebration, hire Locolobo events Entertainment as your corporate event planners. We have direct connections to name brand talent, we do not represent any one artist, so we can offer low booking fees and pass the savings on to you. Trust us to handle your event and your investment and you won't be disappointed.

Hiring us to be your corporate event planners can mean the difference between a tedious meeting and an exciting, unforgettable gathering. If you lack the staff or time to devote to event planning, it will show. Hire Locolobo events Entertainment and your guests will know you took the time to plan something they will really enjoy.

Why Hire Corporate Event Planners?
Your goal is hosting the perfect event, and we can help you attain it. Working with your vision, we will tailor the party to your guests and your company's culture. We will take into account their preferences for activities, themes, and entertainment, and put it all together into a smoothly-running, seamless event that looks like it was a breeze to plan.

It may look easy, but you know the challenges of creating a flawless event. Allow us to be your corporate event planners and handle every aspect of your event, from venue selection to food and beverages, tent rental, booking talent, and promotion. When you put your trust in us, we will handle your VIP function with the utmost care for the best outcome. Ask any of our hundreds of references why they chose Locolobo events Entertainment , and you'll see for yourself why you should choose us to plan your next special corporate event.

Corporate Event Services
Corporate event services like Locolobo events Entertainment eliminate the hassle of dealing with multiple vendors and spending large amounts of time each day planning each aspect of your corporate party. Your VIPs deserve a professional approach to their special event, so we are the logical choice for event planning services. Whether you have your own staff or want us to do it all, we are flexible and will accommodate your needs.

If you want to take your corporate meetings to the next level, contact us today for our corporate event services. We will be happy to answer any questions you may have, and put your mind at ease because you can trust us to plan your party. Our years of expertise in a diverse range of special events ensure that we'll deliver your message in a way that your audience will believe it and accept it.

Locate and Hire Corporate Event Services
We are thorough in all of our planning, and have a reputation for being reliable and honest. We are happy to provide references so you can see how we have helped other companies like yours in the past. From securing top-name talent to developing themes and concepts and handling catering, we will execute a corporate event that is unique to your company and perfect for your budget.

We also have ready access to entertainment, from local artists to world-famous celebrities. Whether you need to book a band for a private concert or hire a motivational speaker to keep your employees enthusiastic, we have connections throughout the industry. For your next special event, choose corporate event services from Locolobo events Entertainment .

Corporate Entertainment Online
Arranging for corporate entertainment online is a convenient way to book bands or comedians for your special evening. Locolobo events Entertainment can provide bands of any size and genre, DJs, comedians, or specialty acts. We can also provide tribute artists, look-alikes, or whatever your guests would enjoy. No matter what your event requires, we can make it happen. Give us a call and let us work our magic.

Private Functions Made Easy with Corporate Entertainment Online
Whether you are celebrating a special anniversary, corporate milestone, or are throwing a private birthday party for your CEO, finding corporate entertainment online makes your life easier when it comes to event management. Our connections to any talent you desire will impress your audience and create treasured company memories, stories that will be talked about around the water cooler and relayed to future employees.

No matter what your budget, booking corporate entertainment online is easy. Locolobo events Entertainment can supply a range of themed celebrations and will make sure that you are satisfied with the arrangements before anything is executed. Simply fill out our online form to tell us the type of entertainment you are looking for, and we will respond with our ideas and suggestions (including talent suggestions). We will do all the groundwork so you can focus on your core business. Event planning is a major undertaking if you want to do it right. To impress your guests and even profit from your private functions, allow professional event management companies to handle the planning and entertainment. Don't risk leaving out important details or forgetting a step in the process. Instead, trust the experts. Call Locolobo events Entertainment today to start planning your exclusive event now.

Corporate Entertainment Companies
Locolobo events Entertainment is one of the leading corporate entertainment companies, serving satisfied clients nationwide. We know that the success of your event depends on the entertainment you choose to perform for your guests. Whether you are holding a seminar to train employees or a motivational event to build camaraderie, the entertainment often determines how well the audience perceives your event.

How to Hire Corporate Entertainment Companies
When you hire us over other corporate entertainment companies, you are getting a full-service events management company. If you have the staff to plan your party, we will work as your business partner with suggestions and ideas and will handle the legwork. If you lack the staff or time to plan your event, we can do this for you as well.

We will help you select the right entertainment for your guests, whether it is concert promotions, a DJ, other types of music, or comedians and celebrity impersonators. For top-rate entertainment that's affordable for you and your employees, turn to Locolobo events Entertainment . We will be happy to give you a free consultation to discuss the type of entertainment you are looking for.

Allow us to handle your event and see the difference that professional corporate entertainment companies can make. Instead of fretting over endless details and worrying about how your audience will react, leave it to us. We have been doing this for years and have a great reputation in the industry. Contact us today for your free consultation.

Live Corporate Entertainment
Live corporate entertainment gives your guests a chance to let loose. After a few days of intense seminars or a season of hard work, celebrate their success by providing live corporate entertainment for your guests. How often do your employees get to dance with each other, relax, and just have a good time at work? Reward them with music, give them a hearty laugh with a comedian, or help them stay enthusiastic with motivational speakers.

Book Live Corporate Entertainment Online on the Internet
Locolobo events Entertainment has been providing live corporate entertainment for years. We are mediators in the field, not representing any one artist. Because of this, we can offer you lower booking rates. We negotiate the best fees among booking agencies and talent managers, then pass the savings on to you. The result is a successful, profitable event for you and your guests. Ignite their senses and provide excitement and energy among your audience. Live entertainment is far superior to anything taped or filmed. The interaction with live performers simply cannot be replaced. The sights, sounds, and vibrations produced by live entertainers are something special and much more likely to be remembered.

Let Locolobo events Entertainment book live entertainment for your upcoming function, and see the difference we make. From local artists to celebrity talent, we can book anybody you want and will deliver for you. We follow our contracts to the letter, ensuring that our clients are satisfied with our services. Just ask any of our references why they hire us time and time again.

Corporate Entertainment Events
Corporate entertainment events are the lifeblood of any organization. Without giving your employees a fun break every once in a while, they can become unmotivated and listless. To increase productivity or to recognize top achievers, corporate entertainment events are key. At Locolobo events Entertainment , we specialize in booking talent and customizing events to meet your needs.

Corporate Entertainment: Events of a Lifetime
We have a wide variety of entertainers and event ideas that can be tailored to your specific guests. From team building speakers to musicians, DJs and comedians, we will make your exclusive event one that will be remembered for years to come. Contact us today to discuss your requirements, and we will get back to you quickly with ideas for success.

In addition to corporate entertainment events, Locolobo events Entertainment is a full-service event planning company with a superior reputation in the industry. For years, we have been handling events such as corporate parties, VIP functions, awards banquets, conferences, and trade shows with success. Instead of fretting over the endless details, allow us to do the work for you.

Reading crowds and knowing what activities work for each audience is another area we specialize in. What management thinks will be fun is not necessarily right for your audience. For example, at company picnics, you will need activities for children as well as adults. A black-tie affair has its own entertainment needs. Contact us today and we will get started finding the right entertainment for your next corporate party, outdoor festival, or state fair.

Corporate Entertainment Packages
Locolobo events Entertainment offers corporate entertainment packages at a reduced price. Imagine having a private concert with Big name talent, or inviting major entertainers to speak to your board members. When you hire us, we can book any talent you seek and produce a unique event that matches your company's personality.

Corporate Entertainment Packages at Reduced Rates
Whether you are an experienced event planner or this is the first special event you have been involved in, we are here to help. Locolobo events Entertainment is your partner in special event planning and corporate entertainment packages. When you hire us, you will be assured that the talent we book for you is appropriate for your audience. For example, we will not hire comedians who may offend your audience nor will we book a band that plays the wrong music for your audience's age group.

Our corporate entertainment packages provide you with the best entertainers for any occasion. Our experts are experienced in providing top-notch talent that knows how to entertain everyone in your crowd. From food and beverage to site selection, concert promotions, and ticket sales, we will plan your event from start to finish.

Let us be your partner in event planning. When you work with us, you'll see the difference that hiring a competent management company makes. Don't risk planning a party that falls short of your expectations. Be known for planning popular parties when you throw the event of the year

Unique Event Entertainment
Executives are often faced with the seemingly daunting task of securing unique event entertainment. While this job can be delegated to a corporate meeting planner, it is often the VIPs who have the final say. Knowing how important event entertainment is, can help sell you on the idea of budgeting for this necessary investment.

Unique event entertainment is one of the most crucial aspects of events, as it gives attendees a chance to unwind and rejuvenate. It may come in the form of a motivational speaker for a keynote address or a comedian to entertain your board members. Team building and training are also more successful when the information is imparted in a fun way that doesn't seem like learning.

More Information about Unique Event Entertainment
At LocoLobo Corporate Events, we have a broad range of popular speakers who are knowledgeable in their fields and have gained the life experience necessary for success. They are both entertaining and informative, often sharing personal stories that audiences can relate to. Successful speeches are remembered long after attendees return to the office, so let us help you choose the right speaker or unique event entertainment.

We don't only book talent, however; we are also a full-service event management company with a superb track record. So if you'd rather outsource the endless details of event planning than overburden your staff, contact us for a consultation. We can provide you with ideas for successful events, based on our experience with current and previous clients. We have helped many Fortune 500 companies realize the dream of enlightening event audiences with informative entertainment, and we'll do the same for you.

VIP Events
Companies are finally catching on to the notion that VIP events are good PR (public relations). Private parties for your best clients, invitation-only hospitality suites at trade shows, and entertainment for your executive board all leave your guests feeling appreciated. They establish goodwill and encourage future business.

No two VIP events are alike, nor should they be. Event planners are forever searching for ways to make them memorable for their guests. The best event is one that gets talked about long after the event. However, it's not an easy task to make them as good as you want them to be.

VIP Events Specialists
Here at LocoLobo Corporate Events, we are specialists in booking entertainment for VIP events. We will work with you to find the best talent for your event, whether you want music, comedy, motivational speakers or need to book a band or particular entertainer. We work on your behalf to negotiate the best pricing and terms for your occasion and handle all the contract details. That leaves you free to mingle with your guests and show them a good time.

The right theme and tone of your event can make all the difference in how your guests perceive it and whether they have a good time. Finding suitable talent that's appropriate for your audience is just one piece of the puzzle. With so many details to keep up with, it's best to leave it to the experts. Contact us today to get started on a fun-filled corporate event that will be treasured by all who attend.

Comedians For Corporate Events
What can Comedians do for a Corporate Event ? Comedians bring a smile and can lighten anyVIP Party! LocoLobo Corporate Events, an event talent agency that has access to any entertainer, speaker or comedian you may want and will guarantee the best service because we seek repeat business.

Maybe you want to book a band AND a comedian? Why not? We can handle any event!

We do not represent any one person so we can negotiate with comedians, management or agencies, depending on who represents them. We work within your event budget to match appropriate comedians and performances with your guests. You probably already know that comedy has a therapeutic effect that actually improves health. Think about how hiring comedians for corporate events will break the ice at your next event and encourage friendly networking and deals to take place.

Companies That Hire Comedians for Corporate Events
Other clients who hire comedians for corporate events are also available as references, so your meeting planner can call and hear about us directly from our clients. We've handled hundreds of corporate parties, executive banquets, awards dinners, private gatherings and VIP-only events. We'd like to help you, too.

We make it easy for executives like you to make decisions about which comedians to hire. If you lack the staff to plan your corporate event, our Corporate Event Planners can act as your outsourced meetings manager, too. We will plan your meeting from start to finish, including obtaining comedians and booking bands. So let us book your entertainment, and take the burden off of you.

Famous Performers
Event managers and corporate executives are constantly seeking ways to make their "special events" truly special. You might think that hiring famous performers is way out of your league, but that is not necessarily the case. Talking with a qualified talent agency that has a vast array of experiences hiring celebrities is a definite way to find out. Whether you regularly host VIP-only events or only produce them on occasion, booking famous performers will pay off in the long run. Name recognition as well as the exceptional talent that is a given with fame will give your guests something to talk about. And there is no better way to make you look good than by people spreading the word to their colleagues.

LocoLobo Corporate Events is a talent agency that can book any famous performer you want. If you don't know your audience's taste in entertainment, or you don't know who you would like to hire, take heed. That is a situation our specialists deal with daily and we will be glad to help you narrow down your choices with regard to performer, program, theme, and budget.

We do not represent any one person so we are able to negotiate with other agents and managers to secure the date and performer for you. In addition to entertainers, we can also book keynote speakers, motivational speakers, lecturers or experts for your next seminar, convention, or trade show. Our services include recommending the best talent for your individual events, negotiating and acheiving your financial goals, researching prospective talent, and arranging a site if you don't already have one. Call us today to learn more.

Famous Comedians
Famous comedians can add humor and pizzazz to an otherwise dull meeting. They also offer entertainment and comic relief during conferences, when everybody is weary from all-day seminars. Comedy is a great way to impart wisdom as well as to break the ice at business functions. However, many meeting planners fail to utilize this valuable resource.

Famous Comedians and Your Bottom Line
Offering a comedy event with famous comedians is a sure way to keep your attendees feeling energetic and give them a chance to unwind a bit before more seminars. Famous comedians offer name recognition as well as top-quality talent--they wouldn't be famous if they were not exceptional at what they do. When you host a famous entertainer, word of mouth marketing works harder than usual to increase your event's profits.

There are a lot of details to consider before booking comedians. Meeting planners who are already overworked would benefit from the services of a qualified speakers' bureau and meetings management company. At LocoLobo Corporate Events, we have a huge database of famous comedians, motivational and keynote speakers, bands, authors, and other entertainers at our disposal. We have a long history of satisfied clients and we can book the perfect talent for you, too.We guarantee the best service for booking comedians and other entertainment and speakers. We seek repeat business so we work within your event budget and help you get the best ROI. We're eager to become your event management and talent specialist.

Corporate Performances
Corporate performances demand attention to detail when planning. Knowing your objectives for your meeting and the corporate entertainment you want will go a long way toward succeeding at the event. Ask yourself why you are holding the meeting and why you want an outside performer to be at your event. Then you will be able to give better direction to your planning committee when it comes time to book talent.

At LocoLobo Corporate Events, we have helped hundreds of corporations like yours meet their objectives in corporate performances. We save our clients thousands of hours of time researching talent and narrowing down the list to finally choose appropriate talent. Whether you need celebrity acts or regional flavor, we will help you evaluate your needs and make suggestions for the corporate performances that will work for your event.

Impressing VIPs with Corporate Performances
Well-known acts not only entertain, they impress guests as well. If your objective is to reward employees or make an impression on your VIPs, a private concert with a celebrity band is well worth the investment. Music, comedians, or magicians each work best in different situations. Tell us who comprises your audience and describe the theme of purpose of your event. We'll do the rest.

Music For Corporate Events
Music for corporate events is something that executives and meeting planners agonize about unnecessarily. While it's true that the right music sets the mood for a memorable evening, choosing the soundtrack is best left to somebody else. The booking agency you use to find your talent should be able to coordinate musicians, travel, and entertainment programs, or you risk wasting your time with them.

At LocoLobo Corporate Events, we have a long history of helping our corporate clients impress audiences with appropriate music for corporate events. Rather than asking you to choose the type of music that will satisfy an audience that varies in age, taste, and style, we'll instead help you decide on the type of mood you want to create with your music. The result will be a party that impresses all!

Setting the Mood with Music for Corporate Events
For example, whether you want to host a rock concert or provide a backdrop of jazz music for dinner makes a substantial difference in the entertainment we suggest. Aside from singers, bands, and individual musicians, we also suggest DJs for our clients. DJs are not limited to the type of music they play and can offer lots of sound when you are short on space.

Top Quality Music for corporate events does not come without a price tag. Our discerning clients are willing to pay for 5 star national acts that we can acheive for that special event. If you're looking for local flavor to entertain audiences that come from all over the world, local and regional acts are also available. Allow LocoLobo Corporate Events to be your partner in showcasing musical entertainment at your next large-scale corporate event.

Famous Entertainers
It's no secret. Famous entertainers raise attendance and bring in the big bucks while providing attendees with a once-in-a-lifetime chance to be in the same room with their favorite celebrities. Before you call LocoLobo Corporate Events to book your talent, evaluate your goals for your meeting and the results you want to achieve.

Think about the issues that are facing your industry and how a keynote speaker, musician, or comedian can help your audience overcome them. You may or may not really need outside speakers or famous entertainers. Your in-house people might be better at dealing with the challenges facing your industry. If you have a low budget, by all means, inside people are the best.

What Famous Entertainers Do for Meetings
Of course, if there are difficulties that need to be addressed, outside speakers and famous entertainers can offer objectivity and ease the blow of delivering bad news so that insiders can work on the issues. For example, if your company is going through reorganization, you might hire speakers to talk about team stress and overcoming adversity. A comedian will take the edge off the seriousness of your meeting and help put everybody in a more relaxed mood.

Hiring famous entertainers can turn your ho-hum meeting into a unique chance to meet a celebrity in a cozy setting. It not only impresses your guests, but will also send a message that your company is financially stable. When a famous performer appears at your event, it gives your company an air of significance. When you are ready to book a famous act for your corporate party, contact us at LocoLobo Corporate Events.

VIP Entertainment
VIP entertainment makes your guests comfortable and adds a sense of lightness to your events. After a long day of intensive seminars or a grueling day on their feet at your trade show booth, attendees will appreciate being treated to a special VIP entertainment event. Magicians, comedians, and even actors appeal to a wide variety of people and help break the ice at networking events.

LocoLobo Corporate Events specializes in bringing the best VIP entertainment to your corporate event. A relaxing atmosphere for travelers will make all the difference at your function, particularly if people are coming from long distances. They might not know other people so entertainment can make them feel included and capture their attention.

With our Corporate Event unique ingenuity, your VIP events will never be boring. We provide interesting entertainment that is creative and fun for all your guests, whether your crowd is large or small. Interactive performers like comedians or special event entertainment, keep your guests participating and draw them into the event. When they participate, they'll remember the originality of the performance long after it's over.

VIP Entertainment Generates Buzz for your Company
VIP entertainment from our Corporate Events company also gives you great publicity and helps generate buzz. Host a function before a trade show to get people talking all over the trade show floor. They'll repeat your company name many times over as they retell their stories again and again. Spend the time choosing unique entertainment to keep your event in the front of everybody's minds and keep them returning for more.

Convention Entertainment
Good convention entertainment can make or break your convention and music really brings a crowd together. Knowing which type of music is best for your audience is not simple. It's better to decide instead on a particular mood, such as dancing, dinner music, or soothing classical music. Music can be the focal point of an event such as a concert or it can provide a background for mingling at a cocktail party.

The Right Help Hiring Convention Entertainment
When you are looking for convention entertainment, don't overlook booking agencies. These convention entertainment resources can handle the details for you.

A leading agency is LocoLobo Corporate Events. We have been helping Fortune 500 companies plan successful, entertaining events for many memorable years. When you really want to impress your guests, allow us to do all the legwork for you. We provide event planning services to give you the best convention entertainment you can imagine.

Rely on us to fill in the background information you need to obtain entertainment and provide demo tapes for you to watch(in some cases). We will also negotiate contracts from pricing to transportation. Save yourself the trouble of overloading your meeting planners and allow LocoLobo Corporate Events to be your booking agency for convention entertainment and any of your other needs.

BOOKING ENTERTAINMENT MAKES THE WORLD GO 'ROUND AND WE MAKE SURE IT KEEPS ON SPINNING!
LOCO LOBO EVENTS.COM, INC

Our agency is bonded so that you can feel secure and safe when planning and booking special talents, musicians, D.J.'s and live entertainment on line.
We are fully
insured
and bonded
Corporate entertainers offer far more to your audience than you would think at first glance. At an intimate venue such as a corporate VIP party or smaller meeting, a celebrity band or sports figure may be onstage just a few feet away from the audience, an experience that will thrill your attendees. Motivational speakers are able to offer inspiration or impart wisdom to your company's best asset: people. Comedians can help your attendees to unwind after a long day of meetings or break the ice among strangers.
At locoloboevents.com, our talent pool is practically bottomless. We are mediators, so we do not represent any one artist. Instead, we represent you, the client, to bring you the best prices and most profitability for your event. Fully insured and bonded, we can negotiate among artists, their agents, or their management teams. We will handle the details so you can focus on your business.
We offer peace of mind as a bonus! We understand that you have other tasks to handle, so allow us to take care of the entertainment. When you hire locoloboevents.com, you are hiring experts with a successful track record and hundreds of satisfied clients. For more information, please continue to browse our site, or feel free to contact us with questions.
We at LocoLobo Events are mediators. This means we do not represent any one artist. By doing this are we able to concentrate on using our expertise, entertainment buying power to get you the best possible deal, negotiating between artists, management companies and agents. We represent you, the client, to bring you a joyful and profitable experience.
We are committed to providing a comprehensive and successful production. Because of this we are able to bring first time inquirers, as well as seasoned promoters, a profitable outcome for your venue, corporate party, fundraiser, wedding, festival, fair or any special event.
We are the largest entertainment mediator corp in NY state, so let Locoloco Events fulfill your dream! Fill out our Find Talent Form and one of our professional mediator agents will contact you promptly. Don't hesitate to call us for some free advice. Let's get the show rolling!

WE ARE BOOKING MEDIATORS. WE ARE NOT A FAN SITE
Locoloboevents is a mediator company, designed for the purpose of Booking Entertainment for the interested Talent Buyer. We cannot help you contact particular artists and we do not have schedule or other information about particular artists. Fans should refer to official artist websites for such information.
Let us help you with our skills as a: Artist Booking Agent, Band Booking Agent, Business Event Planner, Casino Entertainment Booking, Celebrity Booking Agent, Corporate Entertainers, Event Planning And Production, Fundraising Entertainment, Music Booking Agent, Resort Entertainment Booking Agency, Special Event Entertainment, Talent Booking Agent.