Some of the Jazz Musicians available directly from LocoLobo Events
Studio Stu, with his state-of-the-art Studivarious single string bass, unique Brooklyn humor, and unusual, hypnotic vocals, is a master...a one string wonder, combining a traditional folk instrument and a classic jazz form, to create a third thing (one we haven't quite figured out what to call yet).....fearless in delivery and willing to navigate uncharted paths through the improvisational wilderness; he is 'el ultimo hombre del lounge'.

Audio samples:

Fools In Love
Crazy
Epistrophy

Studio Stu takes the very best in classic jazz and originals, and twists and bends them into what he calls 'evocative jazz & exotic lounge'. He starts with standard tunes and a loop machine, except, nothing is sacred.....improv is rampant...lyrics are changed at will...notes and chords are bent and perverted...familiar languages are obliterated....harmonies are sweet and sour perfection......yet, serious, sophisticated and uncompromising in execution. He is one in-tune, out-of-tune, offbeat, beatnick.
---
Bob Hoose And His Orchestra
Bob Hoose has quickly become one of the top vocalists in the country today. He has been wowing crowds of thousands along the east coast and throughout the country for years with his strong vocal ability and natural talent. Bob's concerts have strong appeal to long-time fans of the American Songbook while at the same time introducing this classic music to a new (and rapidly growing) younger audience!
Bob has his own unique way of interpreting the American Classics with a style all his own. Recently, Michael Buble' has become a huge inspiration. "Buble' is current proof that people want to hear this type of music and they want to see it performed live."
"Bob Hoose And His Orchestra" are gaining quite a following as one of the hottest new acts in the country today. While performing their specialty show "A Celebration of Sinatra" may be challenging enough, they pride themselves on unique and special arrangements that they always include in every concert performance. Bob and the orchestra have performed at various large Corporate Events throughout the United States and Canada for L'Oreal, Redken and Lancome to name a few.
| | |
| --- | --- |
| | Performance Video |
| | It's With Me |
| | I'll Be Seeing You |
| | Almost Like Being in Love |
Testimonials:
"You're sure to be swept away by Bob Hoose as he breathes new life into these timeless classics!"
"Music fans are flocking to see Bob Hoose And His Orchestra!"
"This show is something to see for all musical lovers"
The Bob Hoose Orchestra rivals any orchestra you might see in Las Vegas or Atlantic City and are often compared to the Count Basie Orchestra! Their highly acclaimed CD release "Something Old, Something New" (Hyd Records) has received national and European attention. "If you're looking for a record that proves that there are still musicians who know how to play with both technique and feeling, I highly recommend this. This CD is a great mix of Bob's take on classic songs with his own songs and arrangements mixed in. This is a guy to watch." David Hooper "IndieMusician.com" (Nashville, TN)
Bob has headlined command performances at Donald Trumps "Mar-A-Lago" and the Breakers Hotel in Palm Beach. He has also been backed by the world renowned Woody Herman Orchestra, the Tommy Dorsey Orchestra and more recently the Palm Beach Pops with Lynn Roberts, all to SRO crowds.
---
Liza Lee has become a vocal force on the jazz scene. The New York City based indie artist was born and raised in Reading, PA. Liza comes from a family steeped in musical tradition. Her grandfather was a seasoned jazz drummer and her grandmother, Terry Norman, was an internationally known jazz vocalist. Liza has no musical boundaries; as a child she was exposed to many genres from jazz to rock, from folk to classical.
Website
Audio samples:


Scarlet Mark

Strawberry Fields Forever

After numerous years performing on the stage and screen, Liza's jazz roots have resurfaced; she is drawn to jazz by the freedom to express herself through the music. Liza loves to take songs not typical of the standard jazz set and retell these stories in her own style as well as singing classic standards with her own flair. Through this creative pursuit, she has developed a collaborative relationship with one of today's premier jazz pianists, Max Jazz recording artist and producer Bruce Barth. Bruce produced her first CD and co-produced and arranged her latest project, "Scarlet Mark". Liza is surrounded by some of the greatest musicians on the New York City music scene and has been accepted as one of their own.

Liza continues to develop her talents as she studies with the renowned Jeannette LoVetri of the Voice Workshop. In the fall of 2004 Liza will begin her "Scarlet" tour to promote her new CD before heading to Europe in the spring of 2005. Liza is a welcomed addition to the jazz world. She brings her passion, charisma, and charm to every performance. We will be hearing great things from Liza Lee for many years to come.
---
The Victor Catanzaro Quartet repertoire spans an eclectic range of musical styles and tastes. Latin rhythms are a vibrant element of the repertoire. The group has recently completed engagements at 17 Main Jazz Club in Mount Kisco and the Millbrook Winery summer series. Victor Catanzaro, Paul Rossman, Kim Valentine.
Audio samples:


Just the Two of Us

Shaker Song

Victor Catanzaro completed a Masters Degree at the Manhattan School of Music in 1990. He has studied with Howard Zwickler and Arthur Lipner, and received instruction in jazz improvisation from Bob Keller. Victor is a gifted musician not only on vibraphones but on a number of other instruments as well, and recently performed as the principal percussionist for Joseph and the Technicolor Dreamcoat at the Sharon Playhouse. He has worked as a music instructor in the Beacon School District for over 12 years.
---
Laura Theodore has recorded four critically acclaimed Jazz and Blues CDs. Her 1995 debut disc, TonightÂ's The Night, garnered a Musicians Magazine BUBS Award. What Is This Thing Called Jazz? followed in 1997. In 1999, Live at Vartan Jazz was produced by the Vartan Jazz label. Her Adult Contemporary CD, WeÂ're Only Human, is featured on the Etherean Music roster. Her recordings feature such fine musicians as Randy Brecker, Joe Beck, Andy Snitzer, Eric Wollman and pianist/co-writer Don Rebic.
Audio samples:


Don't Get Around Much Anymore

Fever

It was while doing a local television spot that Laura was discovered by manager Sid Bernstein (remember the Beatles at Shea Stadium?), with whom she signed for three years. She appeared as a guest artist on many records and soundtracks, including Jim SteinmanÂ's PandoraÂ's Box (on the title track, Original Sin), and in the 1995 film, The Shadow. She also became a fixture in the jingle world, singing the Jordache Jeans jingle among others.

Laura landed her trademark role as Janis Joplin in the Off Broadway hit Beehive, which earned her a Backstage Bistro Award. The subsequent cast album won critical acclaim, and gave Laura her first national television exposure. These days Laura is busy recording two new CD projects and can be frequently "heard but not seen" as a voice for Nick at Nite Television. She tours frequently with her jazz show and her critically acclaimed self-written show, Celebrating the Great Ladies of American Song.
---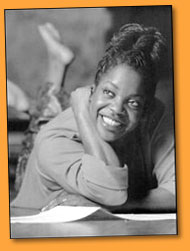 Grammy-Nominated Vocalist Carla Cook
Based in New York but originally from Detroit, Carla Cook is an earthy yet sophisticated jazz singer/songwriter. For Cook, being a jazz singer doesn't mean being a jazz purist or a jazz snob; there are elements of R&B, European classical, Blues and Gospel in her singing, and she is willing to put a jazz spin on songs that weren't written by traditional jazz composers. When it comes to popular music, some jazz vocalists limit themselves to the swing of the 20's and 30's, the Tin Pan Alley composers and the bebop of the 40's. Cook, however, includes many of these and goes beyond the American Jazz Standard Repertoire and has found the jazz potential in songs from the rock and R&B worlds - songs that have included Simon & Garfunkel's "Scarborough Fair", Marvin Gaye's "Inner City Blues", Bobbie Gentry's "Ode to Billie Joe" and Neil Young's "Heart of Gold". To be sure, Cook offers much of the standard repertoire as a foundation of her recordings and live performances, but always included are a few of her refreshing originals and a smattering of her childhood favorites.
In her native Detroit, Cook started singing when she was a young child. Growing up, the Midwesterner sang in the Methodist Church. The secular music that she enjoyed ranged from R&B, rock, country and European classical. Though jazz has always been Cook's primary focus, she has been quoted as saying that her favorite artists range from Miles Davis to Chaka Khan to Johann Sebastian Bach.
Audio samples:

Dem Bones

During her formative years, Cook studied privately, voice, piano and string bass, the latter of which she played in her high school orchestra. After leaving the Motor City, Cook moved to Boston to attend Northeastern University and earned a degree in Speech Communication. While in Boston, she formed the first of several jazz ensembles and set about the business of her trade. Then in 1990, she moved to New York, where she became active on the Manhattan club scene but paid her bills with various "day gigs" that concluded with her teaching social studies in a junior high school. By the mid 90's, however, she was singing on a full-time basis and had given up her "day gigs." It was in 1998 that Cook signed with MAXJAZZ, a small independent jazz label that is based in St. Louis that has been very singer-friendly. In 1999, Cook recorded her debut album; It's All About Love. The CD enjoyed favorable reviews and received a Grammy nomination in the Best Jazz Vocal Performance category and was awarded the AFIM Indie Award for Best Jazz Vocal in 2000. In 2000, Cook recorded her second album, Dem Bones and in 2002, she recorded Simply Natural, both for MAXJAZZ and both continue to receive critical acclaim.
---
Paula Atherton was born and raised in New York. She began singing and studying flute at the age of nine and added sax to her repertoire while in her teens.

She has studied privately with prominent jazz players and teachers such as Bob Mintzer, (Bob Mintzer Big Band, Jaco Pastorius, the Yellow Jackets), Lee Konitz, Sal Mosca, Liz Gorrill (Lennie Tristano), and Gerry Janssen (Vocal Fitness Center).

Paula has toured various parts of the world, including Japan, Monte Carlo, Portugal, Canada, and the U.S. Paula has toured Japan four times, playing such places as the Pit Inn in Roppongi, and the Bottom Line in Tokyo. She also appeared on a popular Japanese talk show, performed, and was interviewed. Paula also had the honor of playing at the New York Ball in Washington, D.C., for a Presidential Inauguration.

She devotes much of her time to her group, Interplay and has been very busy composing all of the material that the band plays as well as taking care of bookings, and all business. Paula Atherton & Interplay were finalists in the Hennessy Cognac Jazz Search, which was hosted by WQCD, 101.9 FM. Paula is the sax player as well as the band leader for the 'Lifetime' network comedy show "Girls Nite Out."

Paula has extensive recording experience, both as a singer, and woodwind player and her music has been featured on many metro area radio stations.
---
Duke Ellington Orchestra with Paul Ellington. Duke Ellington was eulogized as "the supreme jazz talent of the past fifty years" by critic Alistair Cooke in a 1983 issue of Esquire. A prolific composer, Ellington created over two thousand pieces of music, including the s tandard songs "Take the A-Train" and "It Don't Mean a Thing (If It Ain't Got That Swing)" and the longer works Black, Brown, and Beige, Liberian Suite, and Afro-Eurasian Eclipse. With the variously named bands he led from 1919 until his death in 1974, Ellington was responsible for many innovations in the jazz field, such as "jungle-style" use of the growl and plunger, and the manipulation of the human voice as an instrument--singing notes without words. During the course of his long career, Ellington was showered with many honors, including the highest civilian award granted by the United States, the Presidential Medal of Freedom, which was presented to him by President Richard M. Nixon in 1969. "No one else," concluded Cooke, "in the eighty- or ninety-year history of jazz, created so personal an orchestral sound and so continuously expanded the jazz idiom."
Duke Ellington was active as a performer and composer until his death of lung cancer on May 24, 1974, in New York City. Though his audiences constantly demanded such old standards as "Mood Indigo" and "In a Sentimental Mood," Ellington preferred to look ahead and develop new songs for his band. One of his last was "The Blues Is Waitin'." After his death, his only son, Mercer Ellington, who had been serving as the band's business manager and trumpet player, took over its leadership. Mercer Ellington led the orchestra until his father's death in 1974, continuing The Duke's tradition of constant touring, one-night engagements and high-intensity, hard-driving jazz. When Mercer passed away, Duke's grandson, Paul Ellington took over the leadership role.
Represented by Ideal Entertainment
---
Jazz Musicians, that the LocoLobo Mediator Agency can book with their negotiating Skills.
Saxtress Leisha J
"Tinya" Featuring Jose Rosa and Pocho Neciosup
Achu Normad
Adam Makowicz
Afro-Cuban All Stars
Ahmad Jamal
Al Grey Quintet
Al Hibbler
AL Lazard


Alan Quinn




Alex Donner and His Orchestra


Alexander Zonjic and Friends
Alexis Baro
Alfonzo Blackwell
Alfred Bruce Bradley's Flintstone Hoofers
Amber Ojeda
Andre Ward
Andrew Suvalsky
Angela Bofill
Angela Bofill
Anita O'Day
Anne Lieberwirth Trio


Anthony Colon


ARLNAL TITO GOMEZ
Artie Shaw Orchestra
Arturo Sandoval
Astrud Gilberto
Audley Reid
Average Jazz Band
スーパーpフォース 安心
タダリス 通販 オオサカ
タダリス 効果 時間
Barbara Mason
BARRY MOSLEY - Cool Jazz
Bela Fleck & The Flecktones
Big Bad Voodoo Daddy
Bill Charlap


Bill Harrington and His Orchestra


Billy Harper


Billy Hulting




Billy Taylor Trio




Black Note




Bob Baldwin


Bob Hoose And His Orchestra


Bobbi Humphrey




Bobbi Humphrey


Bobby Caldwell


Bobby Hutcherson




Bobby Short




Boots Randolph


Boots Tosti


Branford Marsalis / An Evening With Branford Marsa




Brian Evans


Brian Fictum - "That Sax Guy"


Brother Jack McDuff


Brynn Stanley


Buckshot LeFonque featuring Branford Marsalis




Bucky Pizzarelli Quartet




Buddy DeFranco




Buddy Greco




Buena Vista Social Club Presents Ibrahim Ferrer




Buena Vista Social Club Presents Omara Portuondo




Cachao




Candy Dulfer & Funky Stuff




Carl Allen


Carl Lockett


Carlito Soto




Carmen Lundy




Carol Sloane




Carrie Smith & Trio




Caryn Lin




Cassandra Wilson


Cecil W. Leonard


Cedar Walton Trio


Chad Rager Grove
Chad Rager Modern Big Band
Chan Hall


Charmaine Neville


Charmaine Neville


Chick Corea & Origin




Chick Corea Elektric Band




Children on the Corner




Chris Cain


christopher Linman
christopher nolan


Chuck Loeb, Jeff Kashiwa & Kim Waters




Cindy Blackman




Clarence 'Frogman' Henry




Clarence Clemons




Clark Terry




Clark Terry Quintet




Claude Bolling




Clem DeRosa




Cleo Laine




Cleo Laine & John Dankworth


Cocktail Sax Jazz Band
CoKaMoJO_Joe Locascio


Count Basie Orchestra


CR3
Crystal Petit


Cyrus Chestnut


Dado Sa


Dakota Staton


Dangling Success


Danish Radio Big Band




Danny Federici with Michael Cates


Danny Welsh


Darlene Love and Freda Payne / Love and Payne




Daryl Coley


Dave And Shari's Jazz Party


Dave Gross




Dave Grusin


Dave Longo


Dave Valentin Quartet




Dave's True Story




David Friesen




David Humphreys Orchestra




David Martin's House Party


David Sylvester
David Valenzuela


Dawoud Said




Della Reese


Dena Blue And The BlueJazz Band
Diamond Steele Jazz Quartet


Diana Krall




Dianne Reeves


dlmgerzvphr


Doc Severinsen




Doc Severinsen and His Big Band




Donald Fagen




Donna McElroy


Doug Ferony
Duke Ellington Orchestra


Dukes of Dixieland




Earl Klugh




Ed Shaughnessy




Eddie Daniels


ed薬 効果


El Eco


Eli Keepnice
Eme Awa and Union Street Band
epa dha サプリ
ERIC BRAZIER
Eric Lewis


Eric Reed




Eric Reed




Ernest Ranglin




Ernie Watts


Essance Project Band
Evan Knight


Everett Longstreth Big Band


Faint Image


Felix and The Buzz Cats




Filé (File)


Final Call


Fourplay




Francine Reed


Frank DiBussolo


Freddie Hubbard




Freddie Hubbard Quintet


Freddie Jacobs


Freddy Cole




Free Sol


Freya Casey


G.E. Smith Orchestra




G.E. Smith Orchestra




Gary Bartz


Gary Tole and Legends of Swing


Gato Barbieri




George Shearing




George Shearing


Gerry Johnston, acoustic jazz guitarist
Gibraltar Jazz


Gilberto Gil




Giovanni Hidalgo




Glenn Miller Orchestra




Global Funk




Gloria Lynne




Gloria Lynne




Gnappy


Golden Gate Rhythm Machine
GOOD STUFF


Grammy Artist Nights featuring Peabo Bryson, Regin


Greg Adams
Greg Boyer
Greta Pope
Gruvology


Guy Lombardo's Royal Canadians


Hamilton Sanchez


Hank Jones


Harold Mabern Trio


Harry Connick Jr.




Harry Connick Sr.




Harry Connick Sr. & the Nelson Riddle Orchestra




Herb Alpert




Herbie Hancock




Herbie Hancock & Wayne Shorter (Acoustic Duo Tour)




Herbie Mann




Heritage Hall Jazz Band




Hermeto Pascoal




Hiroshima




Hod O'Brien




Holly Cole




Horace Silver




Hugh Masekela


Ian Villafana


Incognito




India / La India




Irene Reid




Ismael Lo




Ivan Henderson's Scottish Jazzmen


Jahari Sai
James Anest
Jamie Frasier
Javon Jackson


Jazz Crusaders


Jazz Hamilton
Jazz Over Easy


Jean Carne


Jean Therapy Music


Jeanie Bryson


Jeevan D'Souza


Jeff Kashiwa, Joyce Cooling & Slim Man


Jennifer Farnsworth Quartet
Jennifer Hill & Co.


Jim & Martha Hession




Jim Campilongo




Jim Weider's ProJECT PERCoLAToR




Jimmy Delgado




Jimmy Dorsey Orchestra




Jimmy McGriff




Jimmy McGriff & Hank Crawford Quartet




Jimmy Smith




Joe Locke


Joe Smith & The Spicy Pickles
Joel Fleisher
John D. Watkins/Notes + Sounds


John Mills of the Mills Brothers




John Pizzarelli




John Pizzarelli Trio


JOHN R BORJA - TAHITIAN DREAMS


John Tropea Band featuring Paul Shaefer, Will Lee,




John Tropea Band featuring Paul Shaefer, Will Lee, Leon Pendarvis & Guests




Johnny Mathis




Jon Lucien




Jon Lucien


Jon Robinson MBA
Joseph Valenti


Julie Budd


Julie Hardy - Jazz vocalist
Julie McGregor


Juliette Koka


Jump Daddies
Just Friends
Kaat DuJour
Kaeli Anne


Kahuna Cowboys




Karen Francis




Karl Denson's Tiny Universe




Katie Melua




Keely Smith




Keith Jarrett


Kenn Smith


Kenny "Blues Boss" Wayne / Kenny 'Blues Boss' Wayne




Kenny Burrell




Kenny Werner


Kevin Maxwell


Kevin Toney


Klaude Walters
Kristin Lee
Lachi
Ladies In Blue


Lainie Kazan


LaLa Pomp
LambBone


Larry Carlton


Larry Mooney
Larry Vann
Laurent Medelgi Trio - LatinAmour


Lazoo


Lee Allen


Lee Konitz




Lee Ritenour


Leib Violin Jazz Quartet


Lena Prima - "Louis Prima, That's My Dad" (Tribute to Louis Prima)


Les Blachut


Les McCann


Les Purnell
Leslie Casey
Level10 Band


Lew Tabackin




Lew Tabackin Quartet


Linda Kosut


Linda Tillery and the Cultural Heritage Choir




Lionel Hampton




Lionel Hampton Orchestra featuring Chaka Khan


Lisa Arce and the Twilight Swingers


Lonnie Liston Smith




Lonnie Liston Smith




Loston Harris




Louie Bellson




Louie Bellson Big Band Explosion




Louis Hayes Quintet


Lucas Lasagna


Lucie Arnaz




Malcolm-Jamal Warner


Mama Train
Manny Cruz Latin Jazz band


Maria Rita




Marion Meadows


Mark Kraemer


Mark Stein Band (of Vanilla Fudge)


Matt Barber


Max Roach




Max Roach Quartet




McCoy Tyner Big Band


Metropolitan Hot Club


Michael Feinstein




Michael White




Michel Camilo




Mighty Sam McClain




Mike Clark Trio


Mike Ficco and the Long Island Jazz Orchestra
Mike Goudreau Band


Miki Howard




Miracle Orchestra


Mirage Big Band Orchestra


Mitch Seekins - Bublé To Bocelli


Mitchell Endick
MJN (Mo' Jazz Network) Inspirational Jazz Band


Mo Pleasure / Morris Pleasure


Molly Tentarelli
Monty


Mose Allison Trio




Ms. Chris Connor Quartet




Mulgrew Miller


Mundo Clave


Music City Brass




Myra Melford




Najee


Name: Joan Cartwright


Nana Mouskouri




Nancy Kelly


Nancy Scimone


Nancy Wilson




Nancy Wilson




Nancy Wilson & Ramsey Lewis "Meant to Be"




Napua Davoy


Nathan Phyerstone
NAYDJA COJOE
Neil Bacher


New Guitar Summit




New World Funk Ensemble




Nicholas Payton




Nicholas Payton




Nigel Kennedy



Niki King


Norman Connors


Norman Evans
Nothin' But A Feeling


Odean Pope


Orlando Hernandez


Ornette Coleman




Oscar Peterson




Pamela Williams




Paolo Conte




Paquito D'Rivera & The United Nations Orchestra




Pat Metheny Group




Paul Jackson Jr.


Paul Santa Maria
Paula Atherton


Pete Escovedo




Pete Fountain




Pete Fountain


Piano/Guitar Duo


Pieces Of A Dream


Pijenda


PinStripe Brass Band




Praful


Prime Cut Band
PROTOCOL


Pucho & His Latin Soul Brothers


qmvcvamxgx
R&R Music Group
Rachel Panay & the Sideswipers


Ramsey Lewis




Ramsey Lewis




Randy Crawford


Randy Muller- Boom Chang Bang


Randy Waldman's Wigged Out




Ranee Lee - Ranee Presents the music of the Dark Divas




Ray Anthony & His Orchestra


Ray George
Ray Reach


Red Holloway




Regina Carter




Renee Rosnes


Rex McMurphy


Rhonda Thomas


Richard Hart Quartet
Richard Sorce


Richie Cole




Richie Flores


Richmond Punch


Rick DellaRatta Trio Featuring Eddie Gomez and Lenny White




Rita Moreno




Riverboat Ramblers




Rob McConnell & The Boss Brass


Robby Lake
Robert Bass and The Rhythms of Life Band


Roberta Flack




Ronnie Kole




Ronny Jordan




Roy Haynes' Birds of a Feather The Charlie Parker




Royce Campbell


RUXY MUZIK EVOLUTION BAND


Sadao Watanabe


Salemah Broussard


Sam Butera & the Wildest


Satin Doll Trio
Sean L. McMorris


Sergio Mendes & Brasil 2004


Session 5


Seven




Shakti featuring Zakir Hussain & John McLaughlin


Shalini Varghese


Shawnn Monteiro




Shelby Lynne


Smooth Jazz Saxophonist Phil Walker


Snooky Young




Sonny Fortune


SOUNDOCTRINE


Spyro Gyra




Stephanie Nakasian




Steve Oliver


Stolen Moments / Scott Milam


Super Sax


Susan Faucon
Swing Fever
Swing in Time
Sybil Eberhart


Sylvia Vrethammar




Tagine




Take 6




Tana Reid




Tania Maria


Tanya LaReese


Terry Gibbs


Tesoro
THABO MASHISHI


The 70's Soul Jam featuring The Stylistics, The Dr


The Ambassadors of Jazz
The Apthekers


The Bernie Edstrom Starlight Orchestra




The Buddy Morrow Orchestra




The Buddy Rich Band


The Cafe Florin Trio
The Chuck Fesperman Smooth Jazz Group


The Crusaders / The Jazz Crusaders


the donnie -steed project


The Doors (Robbie Krieger & John Densmore)




The Duke Ellington Orchestra featuring Director Paul Ellington




The Duke's men


The Dwaine Spurlin Band
The Elaine Dame Quartet
The Elk Island Duo


The Fantasy Band




The Florida Gold Coast Pops Orchestra


The Forward Motion Jazz Orchestra


The Four Aces


The Full Count Big Band, LLC
The Fusion Band feat. Allana
The Groov


The Havana Boys


THE JAZZ EXCHANGE
The Jazz Generation
The Jazzlinx


The Lester Lanin Orchestra


THE LIFTED CREW


The Manhattan Transfer


The Mose Wanted Band


The Peter Duchin Orchestra




The Peters Drury Trio


The Project
the Queen of Swing™, Kelli Grant,


The Real Group




The Roots




The Sammy Kaye Orchestra




The Sax Pack featuring Kim Waters, Steve Cole & Je


THE SHOW BAND
The Showtyme Smooth Jazz Duo
The Texas Gypsies
The Texas Gypsies
The Texas Gypsies
The Tokyo Flash Band


The Uptown String Quartet




The Vanguard Jazz Orch. Dir. John Mosca




The Woody Herman Orchestra




The Xavier Cugat Orchestra


Tim Chokan


Tito Puente Orchestra


Tobias


Tom Browne


Tom Damiani


Tom Scott & the L.A. Express




Tommy Flanagan




Tommy Newsome




Tony Bennett


Tony Henry


Toshiko Akiyoshi




Toshiko Akiyoshi Jazz Orchestra




Tower of Power


Trace Ellington


Trio 3


UGOCHI
ukgpuhsfel


ulu




Undershade


Ursula Fontaine
Valeria


Valery Ponomarev




Vanessa Rubin


Vaud and the Villains


Walt Redmond Band




Walter Beasley




Wayne Shorter




Werner "Vana" Gierig / Vana Gierig


West Side Bohemians


Willy Chirino




World Saxophone Quartet




Wynton Marsalis


Yale University's Redhot and Blue

Are you a performer looking for an honest, hard working promotional company? Contact us!
---
Jazz Blues Booking Agency
Don't sing the blues about expensive booking agency commissions. Instead, hire a mediator in the field like locoloboevents.com, and produce a unique event that brings jazz and blues to your delighted audience. Imagine booking a private show with Rick Derringer, the Duke Ellington Orchestra, or Spyro Gyra. We can book any talent you desire and we will deliver convenience and savings for your company.

Locoloboevents.com is your partner in special event planning. Our entertainment packages offer you the best entertainment for your company's celebration. We provide speakers who connect well with your unique audience and musicians that can get the whole crowd dancing. As mediators, we work with individual agents and managers to negotiate deals, so you won't have to spend company time on the process.

Whether your audience loves jazz or blues, country or rock, we will help you choose the most suitable entertainment. You won't have to worry about comedians telling off-color jokes to the wrong audience or DJs who play outdated music for young people. We can also find motivational keynote speakers that will deliver information in a way that best impacts listeners. Best of all, our packages save you money when compared with direct bookings through agents.

When you hire an experienced, competent event management service like us, you will see a difference. We can handle each small detail without leaving anything to chance. We also offer concert promotions, ticket sales, and complete special event production. Contact us today--you will wonder why you waited so long!
---
About Us
Entertainment We Provide
How Can We Help You?
---
About Us
Entertainment We Provide
How Can We Help You?
---
Quick review for all your Entertainment Needs...

Corporate Event Planning
When it comes to corporate event planning, we underpromise and overdeliver. Locolobo events Entertainment Planning is your source for private entertainment. Treat your VIPs to an exclusive concert, motivational speech, or comedy show, knowing that every detail of the entertainment is taken care of. From contract negotiations to the last detail of your event promotion, we do it all.

We have extensive experience negotiating with agents, managers, and bands themselves. Whether you need music, speakers, or comedians, we can get the entertainers you desire to perform at your event. Festivals, parties, fundraisers, or any VIP event will benefit from the exclusive entertainment that Worldwide Event Planning provides. Whether you are a small enterprise or a Fortune 500 corporation, rely on us for your corporate event planning needs.

Corporate Event Planning for Exclusive Events
With Locolobo events Entertainment Events, everything is contractual. We will negotiate the best pricing and terms for you and handle your sound and video needs as well as secure the necessary equipment. If you need ideas for your events, we can suggest big-name talent or tribute artists. For the finest entertainment at your corporate function, trust us to make your event a success.

We have a long history of executing events smoothly and efficiently. You can trust us to be reliable and dependable; hundreds of references who have used our services will be glad to share their

Corporate Events
Corporate events need to be lots of fun yet they must always be geared towards the attendees and the desired theme of the event. At Locolobo events Entertainment , we can suggest celebrity entertainment that is appropriate for your guests and your corporate personality. With our experience handling corporate events, event planning will be a breeze when you hire us. Leave the details to us and see just how smooth event planning can be.

You want to provide a fun atmosphere for your event while still keeping it professional. We have links to celebrity talent in all areas--music, sports, DJs, speakers, and comedians. We will match the talent to your event so your guests come away with great memories of your special event.

Book Concerts for Corporate Events
Let us plan an event that will create buzz long after the event is over. It will be talked about and remembered as being one of the most upbeat, unforgettable moments in your company's history. Corporate events don't have to be boring, stuffy affairs when you hire Locolobo events Entertainment to secure your talent and plan the show. Everything is contractual with our company. We are bonded, insured, and experienced at negotiating rates and terms with managers, agencies, and talent. Our reputation is of the highest quality, and we can provide references to support that. Our track record speaks for itself--when you hire Locolobo events Entertainment , you have access to big-name talent at great rates. Call us today to discuss your next corporate event.

Corporate Party Planning
Corporate party planning can seem like a daunting task unless you hire a company that specializes in it. When you work with Locolobo events Entertainment , you'll be getting top-notch entertainment at an affordable price. Not only that, but you'll also be hiring an experienced company that specializes in corporate party planning. We can handle every last detail of your event so you don't have to worry about a thing.

Providing your employees with a great party boosts morale and lets your employees feel special. Giving them a chance to relax and feel appreciated will enhance your reputation and build buzz for months afterward. We will help you select the right talent for your audience. We have years of experience matching talent to the personality and culture of your corporation.

Why take on the stress or risk of corporate party planning yourself? Hire us and you will be pleased with the results. We can secure any talent you want, from tribute artists to top-name celebrities. We are bonded and insured and will hold your payments in escrow, releasing them according to the contract we agree to with you. While our reputation speaks for itself, you might want to check out any of our hundreds of references who can tell you how well we deliver.

Expert Corporate Party Planning for the Event of the Year
Corporate party planning is a detailed job that requires expertise. We stay on top of things to ensure your party will be the best your company has ever had. Hold a private concert, exclusive speech, or elite comedy performance. From planning to promotion, Locolobo events Entertainment will ensure that your party is the event of the year.

Corporate Event Ideas
If you are looking for corporate event ideas, look no further. Locolobo events Entertainment is dedicated to matching the right talent to your event. We plan every detail of your event, working with you to ensure that your guests will be happy and the event will be profitable for you.

Our years of experience have given us lots of corporate event ideas for future events. We know what different types of crowds will respond to and which talent is right for your audience. Whether your event is a concert for thousands of people or a small private speech, we can provide the entertainment you need to make your event a success. We are mediators who are not affiliated with any particular artists. That means we can negotiate contracts and terms with any artist you wish, working for you. We have links to many agencies, managers, and artists to secure the appropriate talent you want, from local artists to world-class celebrities.

Different Corporate Event Ideas
From festivals and fairs to exclusive VIP cocktail parties, Locolobo events Entertainment is your source for corporate event ideas. We plan and execute your event, from invitations and promotion to equipment and supplies. Our expertise ensures that your event is unique and highly rated, without being outrageous.

Talk to our references to find out how we've helped them in the past. Then, speak to us to learn how we can make your event as good as theirs. We strive for perfection and won't stop until you are satisfied. Corporate events are elite, exclusive, and private. We'll help you make them unforgettable, too.

Event Planning Companies
At Locolobo events Entertainment , we know that you can choose from many event planning companies. Why choose us? We are experienced, have an unbeatable reputation, and access to nearly every celebrity out there. Trust us to make your event memorable. We have a reputation as the most dependable event planning company in the industry.

Many event planning companies promise a lot and don't deliver. We produce for our clients--just ask any of the hundreds of satisfied customers we've worked with. We have produced many successful shows from festivals and fairs to comedy shows, private concerts and VIP meetings. Don't be fooled by other event planning companies. Only Locolobo events Entertainment handles your event from start to finish, helping you keep your employees satisfied and helping you profit from the event.

Locating Knowledgeable Event Planning Companies to Plan it Right
Event planning requires a lot of attention to detail. We let you focus on your core business while we plan your event. From invitations to marketing to the color of your tablecloths and napkins, you will not have to worry about a thing.

Call us today to start planning your event. During your free consultation, we'll ask you many questions about what you hope to gain from the event. We can provide unique ideas to make your event special, while incorporating your vision for the event. Let us plan your corporate party and negotiate the talent contracts, and people will be talking about it for months to come.

Corporate Event Management
Allow Locolobo events Entertainment to handle your corporate event management and take the work off your shoulders. We have years of experience in the entertainment business and are affiliated with LocoLobo Events, a team of highly successful event planners. We have expertise in entertainment as well as in professionally managing events from start to finish. For your classy corporate party, invitation-only concert, or private lecture, Locolobo events Entertainment delivers.

Whether you are looking to serve a crowd of thousands at a sporting event or boast a smaller, more exclusive guest list, we will tailor your event to the culture of your company and the personalities of your guests. We know how to read crowds and understand what they want. We can select entertainment based on their preferences to create a truly memorable outcome for all your attendees.

Locolobo events Entertainment for Corporate Event Management
With top-name entertainment, professional marketing, publicity spots, and a well-planned evening, you can be sure that you'll receive excellent attendance at your function. We will find the perfect location for your event, coordinate food and beverage and seating arrangements, and then negotiate the best rates on talent. We'll have a comprehensive plan for executing each and every fine detail of your affair, ensuring its success.

Corporate event management does not have to be a headache when you allow us to handle it. Imagine your guests having the times of their lives and talking about your party for months afterward. That's the kind of response you will get when you leave your corporate event management to us.

Special Corporate Events
Special corporate events keep your employees motivated and raise morale. They are used to thank people for a job well done, to celebrate success, and recognize individuals who have helped the company move forward. Special corporate events such as awards banquets, company picnics, and holiday parties let everyone enjoy camaraderie and strengthen both friendships and management-employee relations.

At Locolobo events Entertainment , we specialize in creating memorable events. Planning any type of company event requires a significant amount of time and attention to detail. If you lack the expertise or staff to handle the amount of work involved, allow us to plan your next event. Not only do we have a full staff with years of experience, but we also have connections to the best name-brand talent available. Host a corporate party with celebrities, tribute artists, comedians, and celebrity speakers, you'll give your attendees an event that is truly meaningful.

Planning Special Corporate Events with an Event Management Company
Using an event management company like Locolobo events Entertainment will help you determine which type of special corporate events to host. Depending on your marketing strategy and business plan, you might benefit from a motivational speech for everyone or a special recognition luncheon for a select few stars on your team. We can help you figure out which events will have a lasting impact, and handle all of the planning and execution, too.

Special corporate events are not just memorable for employees and guests. They can be very profitable for you, too. Contact us today to discuss your needs, and we will show you how events like these can build relationships and help your company profit.

Corporate Event Organizers
Hiring corporate event organizers like Locolobo events Entertainment ensures that your event is a success. By working with us, you will make the party planning process smoother and easier on everyone involved. Event planning requires a significant commitment of time and attention, and if your event fails, you'll hear all about it from your supervisors. Why put tremendous pressure on yourself when you can leave the planning to the professionals?

A great benefit of using corporate event organizers is that we know how to read audiences. At Locolobo events Entertainment , our experience has taught us how to gauge crowds to give them what they want. Doing this allows us to provide just the right entertainment, the perfect theme, and activities that everyone will enjoy. We will help you select a location and a theme for your event, as well as plan appropriate activities for your particular attendees.

Hiring corporate event organizers for your corporate party planning needs, outdoor festivals, or fairs can also bring in higher profits. We have connections to top-name entertainment and can book anybody you choose. We negotiate the best terms and rates with booking agents, talent managers, and even the entertainers themselves. Promoting your event in advance will build momentum and encourage early ticket sales, increasing demand which, in turn, increases publicity. You can see how this cycle clearly builds profits.

Book Bands through Corporate Event Organizers
Hiring top talent need not be challenging. If you need help planning your party and hiring top-level talent, turn to Locolobo events Entertainment . Let us show you how to make your function a highly profitable, smashing success. Contact us today to discuss your vision for your next corporate event.

Corporate Event Planners
For your next corporate meeting or celebration, hire Locolobo events Entertainment as your corporate event planners. We have direct connections to name brand talent, we do not represent any one artist, so we can offer low booking fees and pass the savings on to you. Trust us to handle your event and your investment and you won't be disappointed.

Hiring us to be your corporate event planners can mean the difference between a tedious meeting and an exciting, unforgettable gathering. If you lack the staff or time to devote to event planning, it will show. Hire Locolobo events Entertainment and your guests will know you took the time to plan something they will really enjoy.

Why Hire Corporate Event Planners?
Your goal is hosting the perfect event, and we can help you attain it. Working with your vision, we will tailor the party to your guests and your company's culture. We will take into account their preferences for activities, themes, and entertainment, and put it all together into a smoothly-running, seamless event that looks like it was a breeze to plan.

It may look easy, but you know the challenges of creating a flawless event. Allow us to be your corporate event planners and handle every aspect of your event, from venue selection to food and beverages, tent rental, booking talent, and promotion. When you put your trust in us, we will handle your VIP function with the utmost care for the best outcome. Ask any of our hundreds of references why they chose Locolobo events Entertainment , and you'll see for yourself why you should choose us to plan your next special corporate event.

Corporate Event Services
Corporate event services like Locolobo events Entertainment eliminate the hassle of dealing with multiple vendors and spending large amounts of time each day planning each aspect of your corporate party. Your VIPs deserve a professional approach to their special event, so we are the logical choice for event planning services. Whether you have your own staff or want us to do it all, we are flexible and will accommodate your needs.

If you want to take your corporate meetings to the next level, contact us today for our corporate event services. We will be happy to answer any questions you may have, and put your mind at ease because you can trust us to plan your party. Our years of expertise in a diverse range of special events ensure that we'll deliver your message in a way that your audience will believe it and accept it.

Locate and Hire Corporate Event Services
We are thorough in all of our planning, and have a reputation for being reliable and honest. We are happy to provide references so you can see how we have helped other companies like yours in the past. From securing top-name talent to developing themes and concepts and handling catering, we will execute a corporate event that is unique to your company and perfect for your budget.

We also have ready access to entertainment, from local artists to world-famous celebrities. Whether you need to book a band for a private concert or hire a motivational speaker to keep your employees enthusiastic, we have connections throughout the industry. For your next special event, choose corporate event services from Locolobo events Entertainment .

Corporate Entertainment Online
Arranging for corporate entertainment online is a convenient way to book bands or comedians for your special evening. Locolobo events Entertainment can provide bands of any size and genre, DJs, comedians, or specialty acts. We can also provide tribute artists, look-alikes, or whatever your guests would enjoy. No matter what your event requires, we can make it happen. Give us a call and let us work our magic.

Private Functions Made Easy with Corporate Entertainment Online
Whether you are celebrating a special anniversary, corporate milestone, or are throwing a private birthday party for your CEO, finding corporate entertainment online makes your life easier when it comes to event management. Our connections to any talent you desire will impress your audience and create treasured company memories, stories that will be talked about around the water cooler and relayed to future employees.

No matter what your budget, booking corporate entertainment online is easy. Locolobo events Entertainment can supply a range of themed celebrations and will make sure that you are satisfied with the arrangements before anything is executed. Simply fill out our online form to tell us the type of entertainment you are looking for, and we will respond with our ideas and suggestions (including talent suggestions). We will do all the groundwork so you can focus on your core business. Event planning is a major undertaking if you want to do it right. To impress your guests and even profit from your private functions, allow professional event management companies to handle the planning and entertainment. Don't risk leaving out important details or forgetting a step in the process. Instead, trust the experts. Call Locolobo events Entertainment today to start planning your exclusive event now.

Corporate Entertainment Companies
Locolobo events Entertainment is one of the leading corporate entertainment companies, serving satisfied clients nationwide. We know that the success of your event depends on the entertainment you choose to perform for your guests. Whether you are holding a seminar to train employees or a motivational event to build camaraderie, the entertainment often determines how well the audience perceives your event.

How to Hire Corporate Entertainment Companies
When you hire us over other corporate entertainment companies, you are getting a full-service events management company. If you have the staff to plan your party, we will work as your business partner with suggestions and ideas and will handle the legwork. If you lack the staff or time to plan your event, we can do this for you as well.

We will help you select the right entertainment for your guests, whether it is concert promotions, a DJ, other types of music, or comedians and celebrity impersonators. For top-rate entertainment that's affordable for you and your employees, turn to Locolobo events Entertainment . We will be happy to give you a free consultation to discuss the type of entertainment you are looking for.

Allow us to handle your event and see the difference that professional corporate entertainment companies can make. Instead of fretting over endless details and worrying about how your audience will react, leave it to us. We have been doing this for years and have a great reputation in the industry. Contact us today for your free consultation.

Live Corporate Entertainment
Live corporate entertainment gives your guests a chance to let loose. After a few days of intense seminars or a season of hard work, celebrate their success by providing live corporate entertainment for your guests. How often do your employees get to dance with each other, relax, and just have a good time at work? Reward them with music, give them a hearty laugh with a comedian, or help them stay enthusiastic with motivational speakers.

Book Live Corporate Entertainment Online on the Internet
Locolobo events Entertainment has been providing live corporate entertainment for years. We are mediators in the field, not representing any one artist. Because of this, we can offer you lower booking rates. We negotiate the best fees among booking agencies and talent managers, then pass the savings on to you. The result is a successful, profitable event for you and your guests. Ignite their senses and provide excitement and energy among your audience. Live entertainment is far superior to anything taped or filmed. The interaction with live performers simply cannot be replaced. The sights, sounds, and vibrations produced by live entertainers are something special and much more likely to be remembered.

Let Locolobo events Entertainment book live entertainment for your upcoming function, and see the difference we make. From local artists to celebrity talent, we can book anybody you want and will deliver for you. We follow our contracts to the letter, ensuring that our clients are satisfied with our services. Just ask any of our references why they hire us time and time again.

Corporate Entertainment Events
Corporate entertainment events are the lifeblood of any organization. Without giving your employees a fun break every once in a while, they can become unmotivated and listless. To increase productivity or to recognize top achievers, corporate entertainment events are key. At Locolobo events Entertainment , we specialize in booking talent and customizing events to meet your needs.

Corporate Entertainment: Events of a Lifetime
We have a wide variety of entertainers and event ideas that can be tailored to your specific guests. From team building speakers to musicians, DJs and comedians, we will make your exclusive event one that will be remembered for years to come. Contact us today to discuss your requirements, and we will get back to you quickly with ideas for success.

In addition to corporate entertainment events, Locolobo events Entertainment is a full-service event planning company with a superior reputation in the industry. For years, we have been handling events such as corporate parties, VIP functions, awards banquets, conferences, and trade shows with success. Instead of fretting over the endless details, allow us to do the work for you.

Reading crowds and knowing what activities work for each audience is another area we specialize in. What management thinks will be fun is not necessarily right for your audience. For example, at company picnics, you will need activities for children as well as adults. A black-tie affair has its own entertainment needs. Contact us today and we will get started finding the right entertainment for your next corporate party, outdoor festival, or state fair.

Corporate Entertainment Packages
Locolobo events Entertainment offers corporate entertainment packages at a reduced price. Imagine having a private concert with Big name talent, or inviting major entertainers to speak to your board members. When you hire us, we can book any talent you seek and produce a unique event that matches your company's personality.

Corporate Entertainment Packages at Reduced Rates
Whether you are an experienced event planner or this is the first special event you have been involved in, we are here to help. Locolobo events Entertainment is your partner in special event planning and corporate entertainment packages. When you hire us, you will be assured that the talent we book for you is appropriate for your audience. For example, we will not hire comedians who may offend your audience nor will we book a band that plays the wrong music for your audience's age group.

Our corporate entertainment packages provide you with the best entertainers for any occasion. Our experts are experienced in providing top-notch talent that knows how to entertain everyone in your crowd. From food and beverage to site selection, concert promotions, and ticket sales, we will plan your event from start to finish.

Let us be your partner in event planning. When you work with us, you'll see the difference that hiring a competent management company makes. Don't risk planning a party that falls short of your expectations. Be known for planning popular parties when you throw the event of the year

Unique Event Entertainment
Executives are often faced with the seemingly daunting task of securing unique event entertainment. While this job can be delegated to a corporate meeting planner, it is often the VIPs who have the final say. Knowing how important event entertainment is, can help sell you on the idea of budgeting for this necessary investment.

Unique event entertainment is one of the most crucial aspects of events, as it gives attendees a chance to unwind and rejuvenate. It may come in the form of a motivational speaker for a keynote address or a comedian to entertain your board members. Team building and training are also more successful when the information is imparted in a fun way that doesn't seem like learning.

More Information about Unique Event Entertainment
At LocoLobo Corporate Events, we have a broad range of popular speakers who are knowledgeable in their fields and have gained the life experience necessary for success. They are both entertaining and informative, often sharing personal stories that audiences can relate to. Successful speeches are remembered long after attendees return to the office, so let us help you choose the right speaker or unique event entertainment.

We don't only book talent, however; we are also a full-service event management company with a superb track record. So if you'd rather outsource the endless details of event planning than overburden your staff, contact us for a consultation. We can provide you with ideas for successful events, based on our experience with current and previous clients. We have helped many Fortune 500 companies realize the dream of enlightening event audiences with informative entertainment, and we'll do the same for you.

VIP Events
Companies are finally catching on to the notion that VIP events are good PR (public relations). Private parties for your best clients, invitation-only hospitality suites at trade shows, and entertainment for your executive board all leave your guests feeling appreciated. They establish goodwill and encourage future business.

No two VIP events are alike, nor should they be. Event planners are forever searching for ways to make them memorable for their guests. The best event is one that gets talked about long after the event. However, it's not an easy task to make them as good as you want them to be.

VIP Events Specialists
Here at LocoLobo Corporate Events, we are specialists in booking entertainment for VIP events. We will work with you to find the best talent for your event, whether you want music, comedy, motivational speakers or need to book a band or particular entertainer. We work on your behalf to negotiate the best pricing and terms for your occasion and handle all the contract details. That leaves you free to mingle with your guests and show them a good time.

The right theme and tone of your event can make all the difference in how your guests perceive it and whether they have a good time. Finding suitable talent that's appropriate for your audience is just one piece of the puzzle. With so many details to keep up with, it's best to leave it to the experts. Contact us today to get started on a fun-filled corporate event that will be treasured by all who attend.

Comedians For Corporate Events
What can Comedians do for a Corporate Event ? Comedians bring a smile and can lighten anyVIP Party! LocoLobo Corporate Events, an event talent agency that has access to any entertainer, speaker or comedian you may want and will guarantee the best service because we seek repeat business.

Maybe you want to book a band AND a comedian? Why not? We can handle any event!

We do not represent any one person so we can negotiate with comedians, management or agencies, depending on who represents them. We work within your event budget to match appropriate comedians and performances with your guests. You probably already know that comedy has a therapeutic effect that actually improves health. Think about how hiring comedians for corporate events will break the ice at your next event and encourage friendly networking and deals to take place.

Companies That Hire Comedians for Corporate Events
Other clients who hire comedians for corporate events are also available as references, so your meeting planner can call and hear about us directly from our clients. We've handled hundreds of corporate parties, executive banquets, awards dinners, private gatherings and VIP-only events. We'd like to help you, too.

We make it easy for executives like you to make decisions about which comedians to hire. If you lack the staff to plan your corporate event, our Corporate Event Planners can act as your outsourced meetings manager, too. We will plan your meeting from start to finish, including obtaining comedians and booking bands. So let us book your entertainment, and take the burden off of you.

Famous Performers
Event managers and corporate executives are constantly seeking ways to make their "special events" truly special. You might think that hiring famous performers is way out of your league, but that is not necessarily the case. Talking with a qualified talent agency that has a vast array of experiences hiring celebrities is a definite way to find out. Whether you regularly host VIP-only events or only produce them on occasion, booking famous performers will pay off in the long run. Name recognition as well as the exceptional talent that is a given with fame will give your guests something to talk about. And there is no better way to make you look good than by people spreading the word to their colleagues.

LocoLobo Corporate Events is a talent agency that can book any famous performer you want. If you don't know your audience's taste in entertainment, or you don't know who you would like to hire, take heed. That is a situation our specialists deal with daily and we will be glad to help you narrow down your choices with regard to performer, program, theme, and budget.

We do not represent any one person so we are able to negotiate with other agents and managers to secure the date and performer for you. In addition to entertainers, we can also book keynote speakers, motivational speakers, lecturers or experts for your next seminar, convention, or trade show. Our services include recommending the best talent for your individual events, negotiating and acheiving your financial goals, researching prospective talent, and arranging a site if you don't already have one. Call us today to learn more.

Famous Comedians
Famous comedians can add humor and pizzazz to an otherwise dull meeting. They also offer entertainment and comic relief during conferences, when everybody is weary from all-day seminars. Comedy is a great way to impart wisdom as well as to break the ice at business functions. However, many meeting planners fail to utilize this valuable resource.

Famous Comedians and Your Bottom Line
Offering a comedy event with famous comedians is a sure way to keep your attendees feeling energetic and give them a chance to unwind a bit before more seminars. Famous comedians offer name recognition as well as top-quality talent--they wouldn't be famous if they were not exceptional at what they do. When you host a famous entertainer, word of mouth marketing works harder than usual to increase your event's profits.

There are a lot of details to consider before booking comedians. Meeting planners who are already overworked would benefit from the services of a qualified speakers' bureau and meetings management company. At LocoLobo Corporate Events, we have a huge database of famous comedians, motivational and keynote speakers, bands, authors, and other entertainers at our disposal. We have a long history of satisfied clients and we can book the perfect talent for you, too.We guarantee the best service for booking comedians and other entertainment and speakers. We seek repeat business so we work within your event budget and help you get the best ROI. We're eager to become your event management and talent specialist.

Corporate Performances
Corporate performances demand attention to detail when planning. Knowing your objectives for your meeting and the corporate entertainment you want will go a long way toward succeeding at the event. Ask yourself why you are holding the meeting and why you want an outside performer to be at your event. Then you will be able to give better direction to your planning committee when it comes time to book talent.

At LocoLobo Corporate Events, we have helped hundreds of corporations like yours meet their objectives in corporate performances. We save our clients thousands of hours of time researching talent and narrowing down the list to finally choose appropriate talent. Whether you need celebrity acts or regional flavor, we will help you evaluate your needs and make suggestions for the corporate performances that will work for your event.

Impressing VIPs with Corporate Performances
Well-known acts not only entertain, they impress guests as well. If your objective is to reward employees or make an impression on your VIPs, a private concert with a celebrity band is well worth the investment. Music, comedians, or magicians each work best in different situations. Tell us who comprises your audience and describe the theme of purpose of your event. We'll do the rest.

Music For Corporate Events
Music for corporate events is something that executives and meeting planners agonize about unnecessarily. While it's true that the right music sets the mood for a memorable evening, choosing the soundtrack is best left to somebody else. The booking agency you use to find your talent should be able to coordinate musicians, travel, and entertainment programs, or you risk wasting your time with them.

At LocoLobo Corporate Events, we have a long history of helping our corporate clients impress audiences with appropriate music for corporate events. Rather than asking you to choose the type of music that will satisfy an audience that varies in age, taste, and style, we'll instead help you decide on the type of mood you want to create with your music. The result will be a party that impresses all!

Setting the Mood with Music for Corporate Events
For example, whether you want to host a rock concert or provide a backdrop of jazz music for dinner makes a substantial difference in the entertainment we suggest. Aside from singers, bands, and individual musicians, we also suggest DJs for our clients. DJs are not limited to the type of music they play and can offer lots of sound when you are short on space.

Top Quality Music for corporate events does not come without a price tag. Our discerning clients are willing to pay for 5 star national acts that we can acheive for that special event. If you're looking for local flavor to entertain audiences that come from all over the world, local and regional acts are also available. Allow LocoLobo Corporate Events to be your partner in showcasing musical entertainment at your next large-scale corporate event.

Famous Entertainers
It's no secret. Famous entertainers raise attendance and bring in the big bucks while providing attendees with a once-in-a-lifetime chance to be in the same room with their favorite celebrities. Before you call LocoLobo Corporate Events to book your talent, evaluate your goals for your meeting and the results you want to achieve.

Think about the issues that are facing your industry and how a keynote speaker, musician, or comedian can help your audience overcome them. You may or may not really need outside speakers or famous entertainers. Your in-house people might be better at dealing with the challenges facing your industry. If you have a low budget, by all means, inside people are the best.

What Famous Entertainers Do for Meetings
Of course, if there are difficulties that need to be addressed, outside speakers and famous entertainers can offer objectivity and ease the blow of delivering bad news so that insiders can work on the issues. For example, if your company is going through reorganization, you might hire speakers to talk about team stress and overcoming adversity. A comedian will take the edge off the seriousness of your meeting and help put everybody in a more relaxed mood.

Hiring famous entertainers can turn your ho-hum meeting into a unique chance to meet a celebrity in a cozy setting. It not only impresses your guests, but will also send a message that your company is financially stable. When a famous performer appears at your event, it gives your company an air of significance. When you are ready to book a famous act for your corporate party, contact us at LocoLobo Corporate Events.

VIP Entertainment
VIP entertainment makes your guests comfortable and adds a sense of lightness to your events. After a long day of intensive seminars or a grueling day on their feet at your trade show booth, attendees will appreciate being treated to a special VIP entertainment event. Magicians, comedians, and even actors appeal to a wide variety of people and help break the ice at networking events.

LocoLobo Corporate Events specializes in bringing the best VIP entertainment to your corporate event. A relaxing atmosphere for travelers will make all the difference at your function, particularly if people are coming from long distances. They might not know other people so entertainment can make them feel included and capture their attention.

With our Corporate Event unique ingenuity, your VIP events will never be boring. We provide interesting entertainment that is creative and fun for all your guests, whether your crowd is large or small. Interactive performers like comedians or special event entertainment, keep your guests participating and draw them into the event. When they participate, they'll remember the originality of the performance long after it's over.

VIP Entertainment Generates Buzz for your Company
VIP entertainment from our Corporate Events company also gives you great publicity and helps generate buzz. Host a function before a trade show to get people talking all over the trade show floor. They'll repeat your company name many times over as they retell their stories again and again. Spend the time choosing unique entertainment to keep your event in the front of everybody's minds and keep them returning for more.

Convention Entertainment
Good convention entertainment can make or break your convention and music really brings a crowd together. Knowing which type of music is best for your audience is not simple. It's better to decide instead on a particular mood, such as dancing, dinner music, or soothing classical music. Music can be the focal point of an event such as a concert or it can provide a background for mingling at a cocktail party.

The Right Help Hiring Convention Entertainment
When you are looking for convention entertainment, don't overlook booking agencies. These convention entertainment resources can handle the details for you.

A leading agency is LocoLobo Corporate Events. We have been helping Fortune 500 companies plan successful, entertaining events for many memorable years. When you really want to impress your guests, allow us to do all the legwork for you. We provide event planning services to give you the best convention entertainment you can imagine.

Rely on us to fill in the background information you need to obtain entertainment and provide demo tapes for you to watch(in some cases). We will also negotiate contracts from pricing to transportation. Save yourself the trouble of overloading your meeting planners and allow LocoLobo Corporate Events to be your booking agency for convention entertainment and any of your other needs.

BOOKING ENTERTAINMENT MAKES THE WORLD GO 'ROUND AND WE MAKE SURE IT KEEPS ON SPINNING!
LOCO LOBO EVENTS.COM, INC

Our agency is bonded so that you can feel secure and safe when planning and booking special talents, musicians, D.J.'s and live entertainment on line.
We are fully
insured
and bonded
Corporate entertainers offer far more to your audience than you would think at first glance. At an intimate venue such as a corporate VIP party or smaller meeting, a celebrity band or sports figure may be onstage just a few feet away from the audience, an experience that will thrill your attendees. Motivational speakers are able to offer inspiration or impart wisdom to your company's best asset: people. Comedians can help your attendees to unwind after a long day of meetings or break the ice among strangers.
At locoloboevents.com, our talent pool is practically bottomless. We are mediators, so we do not represent any one artist. Instead, we represent you, the client, to bring you the best prices and most profitability for your event. Fully insured and bonded, we can negotiate among artists, their agents, or their management teams. We will handle the details so you can focus on your business.
We offer peace of mind as a bonus! We understand that you have other tasks to handle, so allow us to take care of the entertainment. When you hire locoloboevents.com, you are hiring experts with a successful track record and hundreds of satisfied clients. For more information, please continue to browse our site, or feel free to contact us with questions.
We at LocoLobo Events are mediators. This means we do not represent any one artist. By doing this are we able to concentrate on using our expertise, entertainment buying power to get you the best possible deal, negotiating between artists, management companies and agents. We represent you, the client, to bring you a joyful and profitable experience.
We are committed to providing a comprehensive and successful production. Because of this we are able to bring first time inquirers, as well as seasoned promoters, a profitable outcome for your venue, corporate party, fundraiser, wedding, festival, fair or any special event.
We are the largest entertainment mediator corp in NY state, so let Locoloco Events fulfill your dream! Fill out our Find Talent Form and one of our professional mediator agents will contact you promptly. Don't hesitate to call us for some free advice. Let's get the show rolling!

WE ARE BOOKING MEDIATORS. WE ARE NOT A FAN SITE
Locoloboevents is a mediator company, designed for the purpose of Booking Entertainment for the interested Talent Buyer. We cannot help you contact particular artists and we do not have schedule or other information about particular artists. Fans should refer to official artist websites for such information.
Let us help you with our skills as a: Artist Booking Agent, Band Booking Agent, Business Event Planner, Casino Entertainment Booking, Celebrity Booking Agent, Corporate Entertainers, Event Planning And Production, Fundraising Entertainment, Music Booking Agent, Resort Entertainment Booking Agency, Special Event Entertainment, Talent Booking Agent.